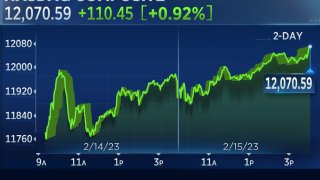 Stocks ticked higher Wednesday as traders mulled what strong retail sales along with the latest U.S. inflation data mean for the Federal Reserve's interest rate hiking campaign.
The Dow Jones Industrial Average gained 38.78 points, or 0.11%, rallying more than 250 points from its intraday low to close at 34,128.05. The S&P 500 ticked up 0.28% to 4,147.60, lifted by shares of SolarEdge and Generac, which gained 9.05% and 8%, respectively. The Nasdaq Composite rose 0.92% to 12,070.59, boosted by shares of Airbnb, which surged 13.35% after beating earnings expectations. Gains in Tesla, Rivian and Lucid also helped lead the tech-heavy index higher.
Stocks slipped earlier in the day when a report showed January retail sales rose 3%, while economists polled by Dow Jones anticipated a 1.9% increase. The number signals that the U.S. economy is holding up despite increased rate hikes by the Federal Reserve to tame inflation.
"The labor market's resilience is the main reason consumers continue to spend and as long as that's the case, inflation is likely to remain sticky," said Chris Zaccarelli, chief investment officer for Independent Advisor Alliance in a Wednesday note. "The Fed is going to need to raise rates higher – and hold them higher for longer – than people currently expect and this is going to cause markets to go through some significant volatility as stock and bond markets are priced for benign scenarios and not the more difficult one that we are headed towards."
Wednesday's retail sales data comes a day after the latest U.S. inflation report was released. The January consumer price index report came slightly above economists' estimates, indicating a potentially longer path in the Fed's fight against rising prices.
Later in the week, traders will be listening to speeches from Fed officials for any signs of what the central bank may do at its next meeting in March.
Investors will also continue to watch earnings results. Zillow, Shopify and DoorDash are some of the companies schedule to report this week.
Roughly three-quarters of S&P 500 companies have posted their latest results. Of those companies, 69% have beaten earnings expectations. That beat rate is below a three-year average of 79%, according to data from The Earnings Scout.
Lea la cobertura del mercado de hoy en español aquí.
Stocks close higher after choppy day of trading
Stocks rallied into Wednesday's close to end the day higher following a surprise beat on January's retail sales report.
The Dow Jones Industrial Average gained 39 points, or 0.11%, rallying more than 250 points from its intraday low.
The S&P 500 ticked up 0.25%, lifted by shares of SolarEdge and Generac, which gained 9.05% and 8%, respectively. The Nasdaq Composite rose 0.92%, boosted by shares of Airbnb, which surged 13.35% after beating earnings expectations. Gains in Tesla, Rivian and Lucid also helped lead the index higher.
So far, all three indexes are on track to end the week higher. The Dow is currently up 0.76% week to date, while the S&P 500 and the Nasdaq are up 1.40% and 3.01% in the same timeframe.
—Carmen Reinicke
Credo stock falls nearly 50% after internet company says largest client reduced demand expectations
Shares of internet services company Credo Technology have nearly halved in Wednesday's session as an expected reduction in demand from its largest customer put downward pressure on expected revenue.
The company said its largest customer has reduced its demand forecast due to reasons unrelated to Credo's performance, according to a filling with the Securities and Exchange Commission. Credo did not name the customer in the filling.
Citing the demand reduction and "macro headwinds," the company guided its current-quarter revenue to come in between $30 million and $32 million. That's below the $58.3 million consensus estimate of analysts polled by FactSet.
The company said to expect flat revenue for the full 2024 fiscal year compared with the full 2023 fiscal year. But management did say to expect sequential growth in 2024, while noting that the "long-term financial model remains unchanged." The company also said it's managing operating expenses to help support growth and profitability.
Wednesday's sharp selloff sent the stock into negative territory for the year, last trading down nearly 22% compared with the start of 2023. That marks a turn from the stock's outperformance in 2022 — its first year as a publicly traded company — when shares ended up just under 28%.
Credo shares were last down 46.3% in Wednesday's session.
— Alex Harring
Dow slips heading into final hour of trading
Stocks were mixed in the final hour of trading Wednesday as investors weighed retail sales and inflation data.
The Dow Jones Industrial Average lost 78 points, or 0.23%. The S&P 500 ticked down 0.04%, lifted by shares of SolarEdge and Generac, which gained more than 8% and 7%, respectively.
The Nasdaq Composite rose 0.55%, boosted by shares of Airbnb, which surged 13% after beating earnings expectations. Gains in Tesla, Rivian and Lucid also helped lead the index higher.
—Carmen Reinicke
Investors are taunting the Fed, top JPMorgan strategist says
JPMorgan's Marko Kolanovic thinks investors are playing with fire, as stocks continue rising despite the Federal Reserve tightening monetary policy.
"There is an old adage, 'don't fight the Fed,' but this behavior is not just fighting but also taunting the Fed with crypto, meme stocks, and unprofitable companies responding best to Fed communications," Kolanovic, the bank's chief global market strategist, said in a note to clients.
— Fred Imbert
U.S. will default on its debt between July and September if Congress doesn't raise debt ceiling, CBO says
The United States Treasury will exhaust its emergency measures to prevent a debt default sometime between July and September unless Congress raises the $31.4 trillion debt limit, the Congressional Budget Office projected Wednesday.
The latest projection notes that the final date will be determined by tax revenues the IRS receives in April. Should those revenues decline significantly from CBO's estimates, "the extraordinary measures could be exhausted sooner, and Treasury could run out of funds before July," CBO director Phillip Swagel said in a statement Wednesday.
The U.S. reached the current debt limit in January of this year, at which point Treasury Secretary Janet Yellen initiated a series of established steps, known as the "extraordinary measures," that allowed the government to continue borrowing money to meet its obligations.
Read here for the full report.
— Christina Wilkie
Treasury yields suggest longer Fed campaign, not more aggressive hikes: Krosby
 Stocks are slipping and Treasury yields rose following two hotter-than-anticipated reports this week; the January retail sales numbers and consumer price index print.
The data, and how the market is reacting, may not signal that the Fed will deliver more aggressive interest rate hikes, according to Quincy Krosby, chief global strategist for LPL Financial.
"The cyclical orientation of the equity market has held up, but the move up in Treasury yields suggests a longer Fed timeline, but not necessarily returning to a more aggressive rate hike campaign," she said in a Wednesday note.
The transition to a longer timeline may be important for the market's outlook, she added.
"The message from the market has been, overall, that cyclical sectors, including technology, can continue to lead the market higher even with higher rates, as long as the market is underpinned by stronger economic growth," Krosby wrote.
"If the cyclical focus reverts to a more defensive posture, with consumer staples beginning to lead once again, the message will be clear that expectations are inching higher for a marked economic downturn," she added.
—Carmen Reinicke
Activist firm Engine No. 1 launches new ETF
Investment firm Engine No. 1 debuted its new Transform Supply Chain ETF (SUPP) on Wednesday.
Engine No. 1 is primarily known as the activist investor that successfully pushed for change on ExxonMobil's board. The firm already has two other ETFs with an ESG-related focus.
The new ETF is actively managed and relatively concentrated, with just 27 equity holdings. Its top holding is Willscot Mobile Mini, a rental company for jobsite offices and storage facilities.
"We're building a portfolio that capitalizes on the transition from old technologies to new ones, from short-term expediency to long-term value creation, and away from the low-cost-at-all costs thinking of the last 30 years towards a more resilient and modern American economy that is a leader in global competitiveness and that creates well-paying jobs here at home," Yasmin Dahya Bilger, head of ETFs at Engine No. 1, said in a press release.
The fund has about $10 million in net assets and 0.75% expense ratio, according to its website.
— Jesse Pound
Energy sector is the biggest laggard Wednesday
Energy stocks weighed on the broader market on Wednesday, following the price of oil lower. Shares of Devon Energy shed 12%, the largest loser on the S&P 500, after reporting an earnings miss on Tuesday.
Chevron weighed on the Dow, falling 1.5%. Diamondback energy was one of the top decliners on the Nasdaq, slipping 3.43%.
The Energy Select Sector SPDR Fund shed 2.34%.
—Carmen Reinicke
Stocks mixed at midday
Stocks were mixed at midday on Wednesday as investors weighed hotter-than-expected retail sales and inflation data.
The Dow Jones Industrial Average shed 162 points, or 0.48% and the S&P 500 lost 0.36%. The Nasdaq rose 0.11%, boosted by a rally in tech shares such as Tesla and Airbnb.
—Carmen Reinicke
Rally won't last as Fed moves closer to 6% on interest rates, Niles says
The Federal Reserve could move interest rates closer to 6%, said Dan Niles, founder of the Satori Fund. And he said that could be bad news for those hoping for a continued market rally.
"I think the Fed, quite honestly, is going to get higher to 6% before they stop raising," Niles said on CNBC's "Tech Check."
The central bank last hiked interest rates by 25 basis points at its meeting earlier this month. That moved the target rate for interest rates to between 4.5% and 4.75%.
Market observers and participants have disagreed on when the Fed will stop raising interest rates. Those predictions have helped drive positioning so far this year.
Meanwhile, the market has rallied since the start of the new year as investors looked past a negative 2022. The Nasdaq Composite has led the averages up, gaining 14.5% since the start of the year as investors grew increasingly optimistic about growth stocks on hopes that the Fed will change course on its interest rate hiking campaign.
But Niles said that rally may fade into the second half of the year, as data more clearly shows investors shouldn't be overly optimistic just yet.
"A lot of things that are driving the market ... so far in the first half of the year, you're not going to be able to disprove until the back half of the year," he said.
— Alex Harring
Jefferies downgrades American Eagle Outfitters
American Eagle Outfitters could be in trouble going forward, according to Jefferies. 
Analyst Randal J. Konik downgraded the retailer to hold from buy. The analyst sees the stock underperforming in a likely recession and resulting slowdown in consumer spending. He also lowered his price target to $16 from $18. The new target is just below where American Eagle closed Tuesday.
Konik also cut his sales growth outlook for 2023, expecting revenue to stay flat for the year.
CNBC Pro subscribers can read more about his downgrade here.
— Hakyung Kim
Narrower breadth + overbought conditions + rebounding dollar = S&P 500 'consolidation phase,' Katie Stockton says
U.S. stocks have been in a "consolidation phase" the past two weeks, driven by "intermediate-term overbought conditions," narrower breadth in the number of stocks rallying, a stronger dollar and a greater number (10%+) of stocks whose weekly stochastics readings have broken down, said Fairlead Strategies' founder and technical strategist Katie Stockton in a note Wednesday.
Stochastics are a technical indicator showing when stocks may be overbought or oversold.

Adding to downward pressure on market sentiment has been weaker base and precious metals prices, especially copper, gold and silver. Gold prices are below their 50-day moving average and copper is testing its 50-DMA, Stockton said, limiting risk appetites.
Another straw in the wind is weakness in homebuilding stocks, which are now "showing signs of exhaustion in absolute and relative terms" after serving as a source of positive relative strength for the past year, Stockton added. Investors should be wary of the SPDR S&P Homebuilders ETF (XHB) and
iShares US Home Construction ETF (ITB) falling below their 20-day moving averages for signs of "a significant loss of momentum."
— Scott Schnipper
DigitalBridge is a promising buy, says Deutsche Bank
There's a big buying opportunity in DigitalBridge, an under-the-radar digital infrastructure company, according to Deutsche Bank. 
Analyst Matthew Niknam initiated the stock with a buy rating and a price target of $18 per share, implying upside of 26.3% from Tuesday's close.
Niknam said the company's high-growth model and sector resilience make it a promising buy even ahead of a potential economic downturn. DigitalBridge owns, operates and invests in cell towers, data centers and other infrastructure-related businesses.
CNBC Pro subscribers can read more about his valuation here.
— Hakyung Kim
Bulls slip from highest reading since 2021 in latest Investors Intelligence survey
The degree of bullishness among financial newsletter writers dipped to 45.1% from 48.6% (highest since Dec. 2021) in the latest weekly survey of financial newsletter writers by Investors Intelligence, which said "Bull counts in the mid-40's are not yet suggestive of tops, especially if the overall trend is shifting positive."
The pullback in stocks last week led the percentage of bears to grow to 26.8% in the latest week from 25.8% the week before. At the October 2022 low, bearishness stood at 44.1% and at the mid-June 2022 low it was 44.1%. Investors Intelligence says those latter readings suggest elevated levels of cash available to put to work in stocks, and a diminished degree of risk in the market.
Those in the "correction" camp expanded to 28.1% from two weeks at 25.7%.
The so-called "bull-bear spread" stands at +18.1 points, down from 22.9 points last week, and the 13th straight week when bulls outnumbered bears. Last week's 22.9-point spread was the widest since January 2022, when stocks were at all-time highs, an d above the August 2022 high of 17.5 points.

Still, Investors Intelligence said, "Those are not yet suggestive of tops."
 — Scott Schnipper
Goldman has ditched plans for a direct-to-consumer credit card
Goldman Sachs dropped plans to develop a Goldman-branded credit card for retail customers, another casualty of the firm's strategic pivot, CNBC has learned.
CEO David Solomon told analysts in late 2021 that the bank was developing its own card, which would've made use of the platform Goldman created for its Apple Card partnership.

But when it scaled back plans to become the primary bank for the masses, the rationale for a Goldman card evaporated, said one of the people, who declined to be identified speaking about a former employer.
The bank's ambitions in consumer finance outstripped its ability to execute on them, Solomon acknowledged last month.
—Hugh Son
Warren Buffett's latest changes to Berkshire portfolio trigger stock moves
Warren Buffett's Berkshire Hathaway disclosed its equity holdings at the end of 2022 Tuesday night, triggering a slew of stock moves in premarket.
Shares of Taiwan Semiconductor dropped nearly 6% after the filing showed that the conglomerate has slashed its stake dramatically. The "Oracle of Omaha" also trimmed his bets on two financials - Bank of New York Mellon and US Bancorp, causing the stocks to dip about 0.7% each in premarket Wednesday.
On the flip side, Berkshire's stake in Paramount Global increased slightly to $1.58 billion at the end of 2022, prompting the stock to rise more than 2%.
— Yun Li
New York Fed manufacturing comes in better than expected
The New York Fed's Empire State manufacturing index showed a smaller-than-expected decline in business activity for the month of February.
The index came in at -5.8. However, that's well above a previous print of -32.9. It's also above a Dow Jones consensus estimate of -20.3.
"Twenty-six percent of respondents reported that conditions had improved over the month, and thirty-two percent reported that conditions had worsened," the New York Fed said.
— Fred Imbert
Stocks open lower after retail sales beat
Stocks slid Wednesday after the January retail sales number came in higher than expected.
The Dow Jones Industrial Average lost 181 points, or 0.53%. The S&P 500 and Nasdaq Composite fell by 0.56% and 0.47%, respectively. 
Retail sales were strong in January, jumping 3% on the month where economists at Dow Jones anticipated a 1.9% increase. The number signals that the U.S. economy is holding up despite increased rate hikes by the Federal Reserve to tame inflation.
—Carmen Reinicke
Roblox stock pops after surpassing bookings expectations
Shares of gaming company Roblox soared 15% after the company reported $899.4 million in fourth-quarter bookings, surpassing the 875.3 million bookings expected by analysts, according to FactSet's StreetAccount. The company reported a fourth-quarter revenue of $579 million, up 2% year-over-year, but falling short of Wall Street's expectations of $613 million.
In January, Roblox recorded profits between $213 million and $216 million, and bookings between $267 million and $271 million, implying 19% to 21% year-over-year growth according to Citigroup research. If January bookings continue to follow this trend, the company would be on track to reach $761 million to $772 million in first-quarter bookings, which would surpass the consensus of $736 million, Citigroup Managing Director Jason B. Bazinet wrote in a Wednesday note to clients.
"We believe January trends indicate a stronger start to 1Q23 than what may be embedded in consensus estimates," Bazinet wrote in the note.
– Pia Singh
Tesla shares tick up after White House says electric vehicle maker will open charging network
Tesla shares added 2.2% in premarket trading following news of an agreement with the White House to open some of its chargers to vehicles made by competitors.
The company has agreed to make at least 7,500 charging stations open to compatible vehicles by the end of 2024, according to the White House. That number includes at least 3,500 of Tesla's 250-kilowatt Superchargers, which are located along key highway corridors, in addition to the slower destination chargers available at places like hotels and restaurants.
Tesla also agreed to triple the number of superchargers in the U.S. New chargers will be made in Buffalo, NY.
— John Rosevear, Lora Kolodny, Alex Harring
Retail sales jump 3% in January
U.S. retail sales far exceeded expectations in January despite persistent inflation pressures.
Advance retail sales for the month increased 3%, compared to expectations for a rise of 1.9%, the Commerce Department reported Wednesday. Excluding autos, sales increased 2.3%, according to the report, which is not adjusted for inflation. The ex-autos estimate was for a gain of 0.9%.
The report comes a day after the Labor Department said the consumer price index, a widely followed inflation gauge, reported a larger-than-expected increase for January.
— Jeff Cox, Fred Imbert
Stocks making the biggest moves premarket: Paramount, Kraft Heinz, Tripadvisor and more
Here are the companies making headlines before the bell on Monday:
Click here to read more companies making moves before the open.
— Pia Singh
The market's strong start to 2023 has brought in investors from the sidelines, Ned Davis Research says
Some investors are experiencing FOMO.
Strategists at Ned Davis Research noted that the market's strong start to the year — the S&P 500 is up 7.7% in 2023 — has brought in some investors who were on the sidelines after a tumultuous 2022.
"The rally caught many investors off guard," Ned Davis Research said. "The upshot is that fear of missing out (FOMO) has made a comeback. Even some investors who doubt the Fed can engineer a soft landing have begrudgingly gotten on board."
"A closer look at sentiment data shows a mixed bag. While the widespread pessimism has been relieved, investor sentiment is far from excessively optimistic levels. There is further room to climb the wall of worry," the firm added.
— Fred Imbert
American Eagle falls after Jefferies downgrade
American Eagle Outfitters shares fell 1.8% after Jefferies downgraded the apparel company to hold from buy.
"Clothing/footwear is typically a low performing category from the start to the exit of the recession and usually recovers with overall spending. On average, over the past 8 recessions, the clothing/footwear category saw no growth until the quarter coming out of the recession," the firm said.
— Hakyung Kim
UK inflation rate falls lower than expected to 10.1%
The U.K. inflation rate dropped to 10.1% for January, down from 10.5% in December, according to data from the Office for National Statistics.
The rate is lower than Reuters economists' expectations of 10.3%.
Inflation has consistently fallen after hitting a 41-year high of 11.1% in October.
Full coverage of this story can be found here.
— Hannah Ward-Glenton
Barclays posts 19% slide in annual net profit after costly U.S. trading blunder
Barclays on Wednesday reported a full-year net profit of £5.023 billion ($6.07 billion) for 2022, beating consensus expectations of £4.95 billion but suffering a 19% fall from the previous year's restated £6.2 billion, partly as a result of a costly trading blunder in the U.S.
Fourth-quarter attributable profit was £1.04 billion, above analyst projections of £833.29 million but down 4% from the £1.08 billion posted in the fourth quarter of 2021.
The British lender took a substantial hit from an over-issuance of securities in the U.S., which resulted in litigation and conduct charges totaling £1.6 billion over the course of 2022.
Barclays shares dropped more than 8% in early trade.
— Elliot Smith
Upcoming homebuilding sentiment data on Wednesday
The National Association of Home Builders/Wells Fargo Housing Market Index will be releasing February's homebuilding sentiment numbers on Wednesday .
The index measures three components: current sales, sales expectations and buyer traffic.
Builder sentiment in the single-family housing market posted an unexpected gain last month, rising for the first time in 12 straight months. Economists had predicted a slight decline. The metric currently stands at 35.
— Hakyung Kim
Stocks making the biggest moves in extended trading
These are a couple of the stocks making the biggest moves after the bell:
Airbnb — Shares of Airbnb jumped 10% after the company released fourth-quarter earnings that topped analysts' expectations. The company reported earnings per share of 48 cents, greater than the estimated 25 cents, according to consensus estimates from Refinitiv. Airbnb posted revenue of $1.90 billion, higher than the forecasted $1.86 billion.
Devon Energy — The energy company's shares fell 5% after the company's disappointing fourth-quarter earnings report. Devon reported adjusted per-share earnings of $1.66, falling below analysts' consensus estimate of $1.75, according to Refinitiv. Revenue also came in below Wall Street's expectations.
Check out the full list here.
— Hakyung Kim
Stock futures open lower
U.S. stock futures slipped on Tuesday night following the release of January's hotter-than-anticipated consumer price index.
Dow Jones Industrial Average futures declined by 38 points or 0.1%. S&P 500 and Nasdaq 100 futures each declined 0.1%. 
— Hakyung Kim
Copyright CNBCs - CNBC