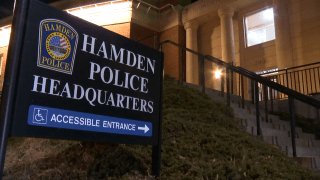 A woman is suffering from a laceration to the head after being attacked by a person with a knife while leaving her friend's home in Hamden Tuesday morning, police said.
Around 9:30 a.m. Hamden Police officers responded to a residence on Warner Street on a reported assault involving a knife.
Responding officers located a 20-year-old female with a laceration to the head. She was treated on scene and transported to the hospital with non-life-threatening injuries, police said.
According to officials, the woman was attacked by a 19-year-old female from New Haven as she was leaving the home.
Police said the 19-year-old was previously involved in a relationship with the person that lived at the Warner Street residence.
She is facing several charges including first-degree assault, and second-degree breach of peace.
She was held on a $25,000 bond and is scheduled to appear in court on May 19.