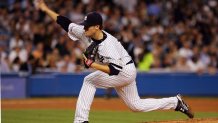 GOODBYE MR. PHELPS
Is this really goodbye forever? Michael Phelps' last Olympic swim in Rio, and perhaps last Olympic swim ever, is expected to be the 4x100 medley relay, as he looks to add a golden finishing note to a legendary career.
But is this really goodbye? His mom is already talking about the 31-year-old returning for the Tokyo Games in 2020.
HOW TO SEE IT: See Phelps final swim live online at 9 p.m. ET, or on NBC's primetime coverage.
USAIN BOLT READY TO STRIKE A GOLDEN POSE
Usain Bolt, the fastest man alive and defending gold medalist in the 100m, 200m and 4x100, looks to add to his immense gold stockpile as he competes in the Men's 100m preliminary rounds.
Bolt is seeking to accomplish an unprecedented "Triple-Triple" by becoming the first athlete to win all three titles at three consecutive games. He's certainly not lacking for confidence.
"I'll win all three gold (medals)," he told CNN. "There's never anything else for me when it comes to a championship."
Bolt had an easy win in his 100-meter heat. The crowd went wild for his entrance but he calmed them by putting his fingers to his lips for silence just before the race. He moves on to the semifinals on Sunday.
HOW TO SEE IT: Bolt continues his chase for history during semifinals beginning at 7:15 p.m. ET Sunday. Stream it live here.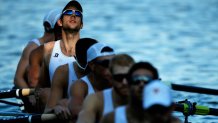 HACK'S BACK
Old Lyme's Austin Hack was Connecticut's last hope for a medal in the rowing events, but things didn't work out the way the US had hoped.
Hack is part of the U.S. men's eight team, which finished fourth in the final with a time of 5:34.23. Great Britain took the gold with a time of 5:29.63.
How to Watch: You can catch a replay of all the rowing events here.
WOMEN'S FIELD HOCKEY TEAM LOOKS TO REMAIN UNDEFEATED
Team USA stayed perfect in pool play with 6-1 rout of Japan Wednesday and a 3-0 win over India Thursday. They're atop the Pool B standings, and now have Great Britain in their sights in their final pool play match.
They'll need another standout performance from Katie Bam to remain unblemished. Bam played like a machine against Japan, collecting a hat trick.
"Games like this are statement games for us," Bam said. "It's easy to step up and play the people that are ranked higher than you. It's hard to step up and bury a team like we just did that's ranked lower than you."
Former UConn Husky Melissa Gonzalez has also contributed for Team USA in their earlier wins.
HOW TO SEE IT: See Bam, Gonzalez and U.S. women's field hockey team face off against Great Britain live online at 5 p.m. ET, or on CNBC.
DESPERATE MEN'S VOLLEYBALL TEAM TAKES ON FRANCE
It's USA vs. France Saturday as the U.S. volleyball team comes off a much-needed win.
After early losses against Canada and Italy, the team rebounded Thursday with a win over host Brazil. Now they'll need to keep the momentum going against France.
HOW TO SEE IT: See the U.S. men's volleyball team face France live online at 4 p.m. ET, or on NBC's daytime coverage.