The forecast challenge today is once again about weekend rain. At this point it appears the best chance for rain is Saturday morning - and there are some indications a period of locally heavy rain is possible.
How much rain is a big question. Take the Short Range Ensemble Forecast model, or SREF, for instance. It shows a range from nearly 0" of rain to 3" of rain on Saturday - the bulk of which falls in the morning. The biggest clustering of ensemble members is <0.5" of rain - so it's fair to say that while heavy rain is possible it's not the most likely outcome. A lighter rain event remains the most plausible scenario.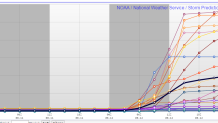 By Saturday midday and afternoon even though the clouds stick around we should get a period of drier weather. A renewed chance for showers develops by Saturday evening as a trough of low pressure advances in from the west.
Beyond Saturday much nicer weather moves in for Sunday and Monday. There is a low risk for showers on Tuesday with a weak wave of low pressure to our south but at this point things are looking pretty good for next week.