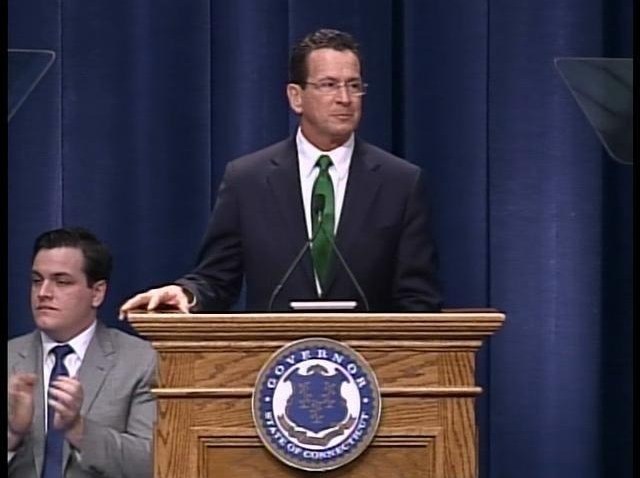 During the campaign, it was Dan. But now that he has taken office, Connecticut's new governor says he prefers to be referred to by his full name: Dannel P. Malloy.
On Thursday during his first wide-ranging news conference with reporters since his inauguration on Wednesday, the Democrat who pitched himself to voters for months as "Dan" said he has insisted that printed materials from the governor's office, including business cards, bear his formal name, the Connecticut Post reports.
"My cards say Dannel. I insisted that we go back to my formal name as opposed to Dan. I like Dannel," he said, according to the Post. "I'm hopeful that more people will spell it correctly in the future. On the things that I'm sending, I like the name that my mother gave me. She was fond of it. I have become attached to it. I like Dannel."
Scott McLean, a professor of political science at Quinnipiac University, said Thursday that while the change of heart might indicate that "Dan" was just an election-season marketing tool, he believes Malloy has been attached to his full name for years.
"I recall that actually for a lot longer that he's been pushing the 'Dannel' thing," McLean told the Post in a phone interview from Washington.
"I remember him pushing it during the start of this campaign and even the 2006 campaign that he didn't win," McLean said. "I see the humor in it, but really, now that he's governor, who can blame him? Unofficially it is amusing, but honestly he's been trying for years to be called Dannel."
The name game was one of several superficial issues to come up during the news conference on Thursday.
When one reporter noticed Malloy's new, traditional high-backed leather chair, with his name and the state seal in gold stencil on the headrest, he asked whether it was a tad ostentatious in a tight fiscal period, the Post reports.
"Well, I need a chair and I noticed it was the only chair that was here behind the desk," Malloy said. "Listen it's a chair. I need a chair."