The national volunteer effort to collect rain, hail and snow measurements is looking to recruit new volunteers this March.
The Community Collaborative Rain, Hail and Snow network, known colloquially as CoCoRaHS, aims to bring new observers into the network each March.
The annual goal to bring aboard new observers in March has gone on for several years, and the state with the most new volunteer observers is awarded the "CoCoRaHS Cup" to keep and display for one year.
Why is this important? First Alert meteorologist Tyler Jankoski recalls the Norwich flood of July 2013, when a month's worth of rain – in this case over 6 inches – fell in the span of a few hours.
According to this NBC Connecticut report, Interstate 395 on and off ramps were shut down and a Connecticut Tigers game was cancelled, all while many homes and properties were damaged by flood water.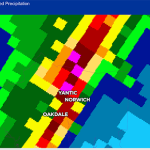 The National Weather Service estimates that 6 inches of rain fell in the Yantic area.
The nearest rain report on the CoCoRaHS network was near Oakdale, a mere 5 miles south, coming in at 2.32 inches. How could it be so different?
First Alert meteorologist Ryan Hanrahan explained that it's just how it works – in the span of a few miles, especially in a summertime thunderstorm, the amount of rain that falls can vary by inches.
Forecasters are always looking to improve, but they must know what happened in order to verifiy their forecasts.That's why more observers are needed – to fill in the gaps on the network.
Additionally, Connecticut reports may occasionally be referenced on NBC Connecticut First Alert forecasts!
The program requires a physical rain guage, but does not accept automated measurements for reasons listed on its website.
CoCoRaHS requests one observation per day; most observers submit their reports in the morning.
A 4-inch rain guage recognized by the CoCoRaHS program currently sells for just over 30 dollars online, not including shipping.
To apply to be a CoCoRaHS observer and for a link to purchase the accepted rain gauge, click here.
Those with questions about the program may contact the volunteer coordinator for Connecticut, Matt Spies.