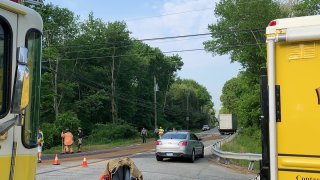 Route 16 in Colchester has reopened after a crash involving a garbage truck and tractor-trailer with a fuel leak on Wednesday morning.
State Police said it happened near Cato Corner Road around 7 a.m.
The fire department was called in because of fuel leaks on both vehicles.
One fuel tank was holding 200 gallons. State police also asked for the state Department of Energy and Environmental Protection.
The area was closed for a few hours while the spill was cleaned up, but it has since reopened.
The cause of the crash is under investigation.