Fire destroyed an apartment building on East Main Street in Meriden Friday morning and several residents are displaced.
Firefighters were called to the 200 block of East Main Street at 6:10 a.m. and encountered an intensive fire.
"The biggest problem we had was the multiple layers in roof. When it got up into the roof, it was very difficult to get the fire out because it was burning in different layers," Meriden Fire Chief Ken Morgan said.
The record from the city of Meriden website says the building was built in 1885 and has at least five apartments.
Mutual aid was called in from Wallingford, Berlin, Southington, Middlefield and Middletown.
This photo was taken when the fire broke out.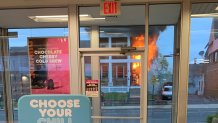 No additional information was immediately available and it's not clear exactly how many people are displaced.