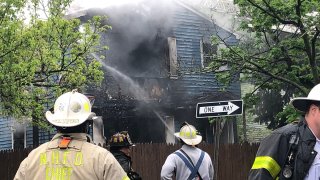 Two firefighters were injured while battling a fire on Monroe Street in New Haven Wednesday.
The fire broke out around 11:35 a.m. and caused extensive damage to the front of the duplex.
Two adults and four children were displaced, according to fire officials.
One firefighter suffered minor burns and a second had what officials called non-life-threatening injuries. Both were taken to Yale New Haven Hospital.
Two pets also made it out of the house. Firefighters were searching for a third.