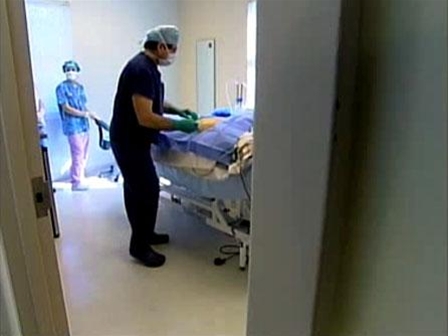 The Connecticut Medical Examining Board voted unanimously to suspend Dr. Efraim Gomez-Zapata's physician license, pending the resolution of allegations he improperly performed liposuction and other procedures typically done by plastic surgeons.
The Department of Public Health requested the suspension in a hearing Tuesday afternoon saying Gomez-Zapata's actions as a physician and surgeon represent an immediate danger to public health and safety. The board agreed, imposing the immediate suspension that will stay in place until they reach a final decision on the doctor's future.
Gomez-Zapata has been in trouble with the state for more than a year, as health officials have questioned his training, staffing, and facilities. In February 2008, the Department of Public Health ordered him to stop running an unlicensed outpatient surgical facility and to stop performing procedures requiring moderate to deep sedation.
But now, state health officials say he's still performing liposuction and other procedures, using local anesthesia to bypass the state's order. "One procedure was documented at four and a half hours in length, two almost three hours in length," said Matthew Antonetti, an attorney for the Department of Public Health.
The state also says the new patients were not listed in the doctor's appointment book on the day of their procedures, and that medical records lacked proper documentation for vital signs during procedures, follow-up care, and other issues. Two patients were rushed from Gomez-Zapata's office to the emergency room at Stamford Hospital, said Antonetti. "The department does not want to wait for a third."
Gomez-Zapata declined to comment on the decision at the hearing. He maintains those complications were not his fault, that he has proper training, and that he has not violated any state order, according to John Evans, Gomez-Zapata's attorney. "I hate to put it this way but I think the fact that we're here is a joke and it's a waste of time for all of us," said Evans.
The state medical board's formal hearing into these allegations has already started and will continue next month. It's not clear when a final decision on the doctor's future will be made.