A flood watch has been posted for northern Connecticut in anticipation of several hours of heavy rain tomorrow morning. And that's only round one of two major rain events this week.
Today's the lull before the main event, as only a few downpours are expected. Temperatures will be quite high for this time of year, close to 80 degrees inland.
The heart of round one arrives after midnight.
That's when a cold front will approach in conjunction with a plume of Pacific moisture. The front itself moves little in 12 hours, slowly traversing the state between 8 a.m. and 8 p.m. Wednesday.
Steady, heavy rain is anticipated for several hours on end tomorrow morning. The morning commute will be a slow one. By lunchtime, the wall of rain will be in the process of breaking up.
The primary impact from round one will be flooding. There's a moderate risk for urban and poor drainage flooding, especially Wednesday morning.
0.5-3" of rainfall can be expected from round one, which tapers to scattered downpours and storms by Wednesday afternoon. The most rain is likely to fall over the Berkshires and Litchfield Hills, while the least rain is expected along the Connecticut coastline.
The winds throughout the atmosphere are strong enough to mention a low threat of damaging wind gusts or even a tornado. That's by far the exception and not the rule, though.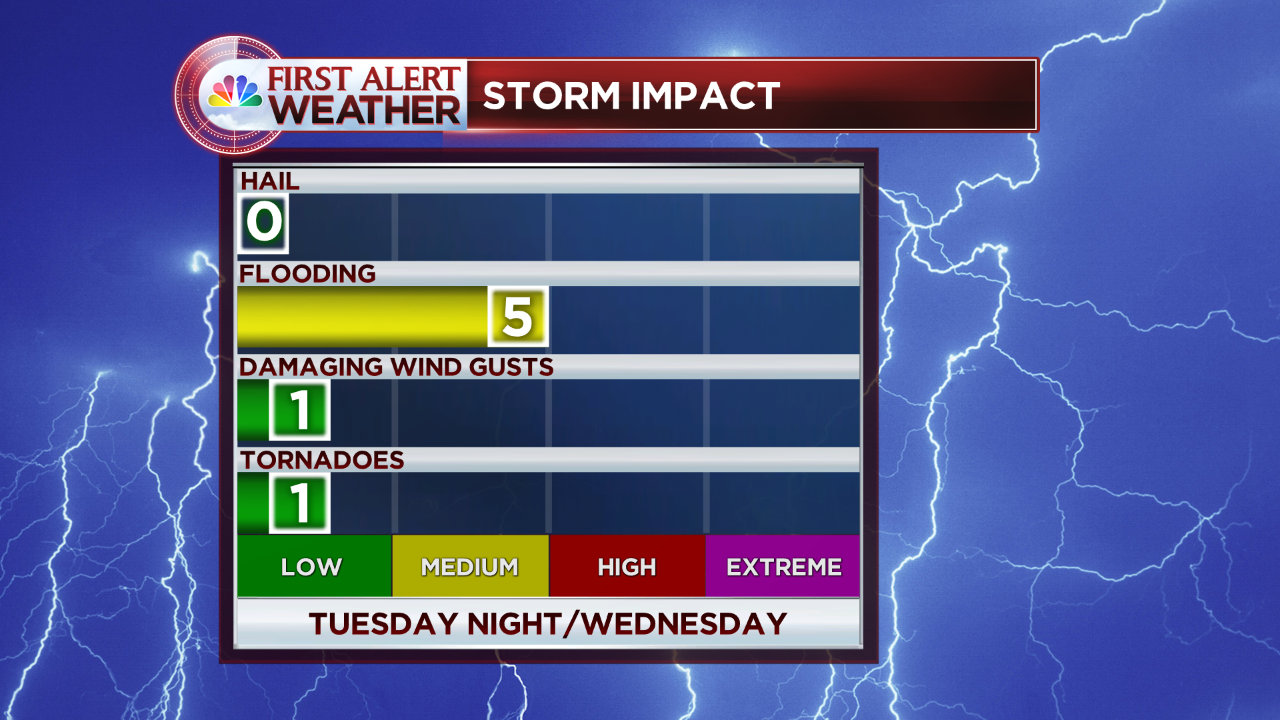 A massive high pressure center sets up over eastern Canada by nightfall Wednesday and it will result in a strong pressure gradient over the region. Breezy conditions will stick around for the rest of the week.
While the impact on beaches will be far greater along the eastern shore of Massachusetts, some water will pile up in western Long Island Sound. Coupled with astronomically high tides, minor splash-over can be expected late week.
In the grand scheme of things, Thursday and Friday are both lulls in the action. Still, showers are possible with cloudy skies sticking around. Temperatures will be stuck in the 50s to near 60 degrees!
For the latest on Tropical Storm Joaquin, click here.
It's the busiest week of weather in some time, so be sure to stay with the NBC Connecticut First Alert weather team for the very latest information.