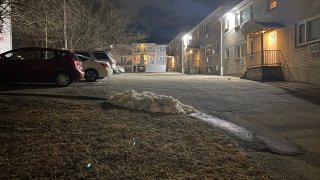 A food delivery driver has died after he was shot multiple times in Bridgeport on Saturday night. Police arrested a teenage suspect and said they are looking for two "persons of interest" in the case.
Officers were called to the intersection of Boston Avenue and Palisades Avenue around 7:25 p.m. after getting a ShotSpotter activation. Dispatchers also received multiple calls about numerous shots fired and someone shot.
When emergency crews arrived to the area, they said they found 35-year-old Jiabin Lin, of Flushing, New York, unresponsive. He was on the ground next to an apartment building on Boston Avenue.
According to police, the man was a food delivery driver for Yummy Yummy Chinese Restaurant on Boston Avenue in Bridgeport and was shot numerous times. He was pronounced dead at the scene.
Lin has no known family in the United States, police said, and they have notified his family member in China.
Police said they've arrested a 17-year-old in connection to the deadly shooting. He faces charges including murder, commission of a felony murder, and first-degree criminal attempt at robbery. The teen is being held on a $3 million bond.
The teen was detained on charges in connection to the shooting over the weekend. He faces additional charges including interfering with and assault on a police officer.
The police department said they were able to utilize the National Integrated Ballistics Information Network (NIBIN) to analyze shell casings and put them into a national database with other ballistic images. The computer system determined that the shell casings at the murder scene matched ballistics of the gun recovered from the teen.
Police are also asking for help to find two people who were with the teenage suspect just before Lin was killed. Bridgeport police said they are persons of interest in the case.
The homicide investigation is ongoing. Anyone with information about the shooting is asked to call Homicide Detective Keith Hanson at (203) 581-5243 or the Bridgeport Police Tips Line at (203) 576-TIPS.