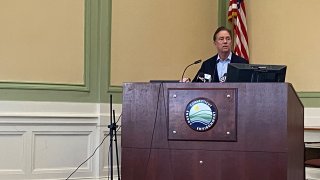 The governor and other officials held a virtual news conference on Monday morning to talk about COVID-19 safety measures at childcare centers.
Childcare officials had what they said was a transparent discussion with Governor Lamont to discuss the what childcare providers are facing amid the ongoing pandemic.
Officials said staffing is one of the biggest issues childcare centers are facing right now.
They also said they had trouble accessing COVID-19 test kits and need more.
Stories from NBCLX
LX, or Local X stands, for the exponential possibilities of storytelling in our communities.
The state has posted COVID-19 health and safety guidance online here.