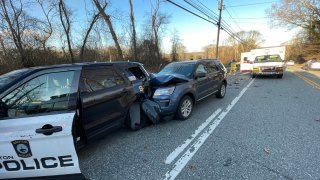 A Groton police cruiser has significant damage after being struck by a car on Fort Hill Road Friday morning.
The police department said the officer is okay and recovering at home.
The cruiser and other vehicle involved in the crash both sustained damage.
Officers are reminding the public to pay special attention when driving eastbound on Fort Hill Road during the morning commute, as the sun can present a hazard for drivers.
No additional information was immediately available.