Someone is passing high-quality counterfeit $100 bills in Willimantic that passed tests businesses use to detect fakes and police are issuing a warning so that people don't fall victim.
Police were alerted after someone passed two fake $100 bills at the Ocean State Job Lot in Willimantic on the night of May 5.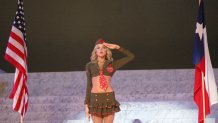 The counterfeit bills have all the necessary watermarks and color variations and passed the universal counterfeit detector pen that would be used at most local businesses, according to police.
The discovery that the bills were fake came only during a routine cash count in a money machine, police said.
When a local bank looked at the bills, they discovered the issues: The vertical security line was too dark, the horizontal security strip was crooked and the serial numbers on both $100 bills were identical.
Police want to get the word out to alert residents not only in Willimantic, but also statewide, that high-quality counterfeit $100 bills are in circulation here.
The website for the U.S. Currency Education Program includes images on what to look for to ensure a bill is real.