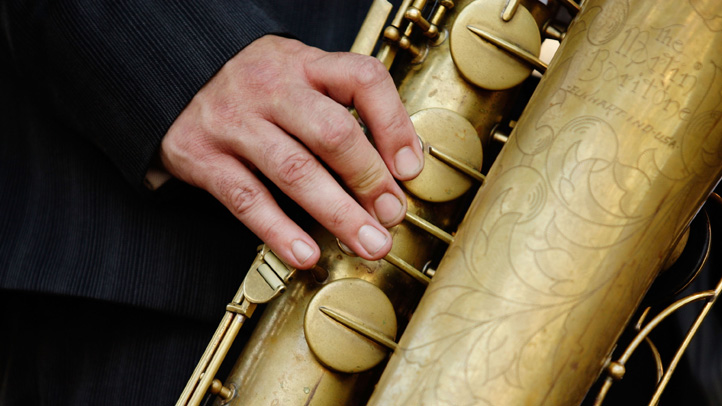 Tom Scavone, the director of Canton's school music program, is the Pied Piper of town.
At the high school, more than half the students are members of one of the many instrumental and vocal ensembles
When Scavone came to Canton 11 years ago, he had a "Field of Dreams"-type attitude: If you build it, they will come.
"Everyone has ability; that's step one," he said. "At different levels of commitment, it's an open society in this room. We want people to be involved, actively engaged in the art form."
Among the hordes of budding musicians are some true virtuosos.
Tom Kelley has been playing piano since he was 4 years old, but now he's something of a sax symbol in Canton and on the national scene as well. He's been invited several times to jam with the best young musicians in the country as part of the GRAMMY Jazz Ensembles in Los Angeles.
"I love to practice, but at the same time, it is great to get a certain satisfaction. I'm able to go out on stage and present what I've worked on," the senior said.
Rose Minichiello is a three-sport athlete, but she plays five instruments in the rehearsal room: baritone and alto saxophone, clarinet, bass clarinet and percussion.
"I just really enjoy it. I don't have to sacrifice anything to play just something that adds to my day, " Rose said.
She and Tom attribute much of their success to their fearless leader, Mr. Scavone.
"He has a really special gift for motivating students to achieve their best and get out of their comfort zone," Kelley said.
Canton's musical reputation has echoed across the country and now the NAMM Foundation has taken notice, naming Canton one of the Best Communities for Music Education in America.
It's certainly a feather in Mr. Scavone's cap, but he takes on every day as a new challenge and said he wouldn't have it any other way
"This is absolute fun, nothin like it. It beats workin'," he said.