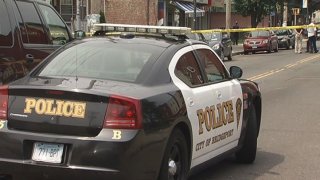 Bridgeport police now say that a deadly shooting which resulted in an accident is being investigated as a homicide.
There was a large police presence in the area of Lincoln Avenue at Main Street in Bridgeport Saturday afternoon.
Officials responded to the scene for a motor vehicle accident at approximately 12:30 p.m. A person called police reporting that they'd heard gunshots fired just before the accident.
When officers arrived at the scene, they discovered that a person was indeed shot and had been involved in a car crash, according to police.
Authorities said the victim, a 21-year-old man from Bridgeport, was transported to a nearby hospital where he was pronounced dead.
Detectives are investigating and said they already have several strong leads.
Lincoln Avenue was blocked off in the area of Main Street but has since been reopened.
Anyone with information is asked to call Detective Keith Hanson at 203-581-5243 or call the Bridgeport police tip line at 203-576-TIPS.