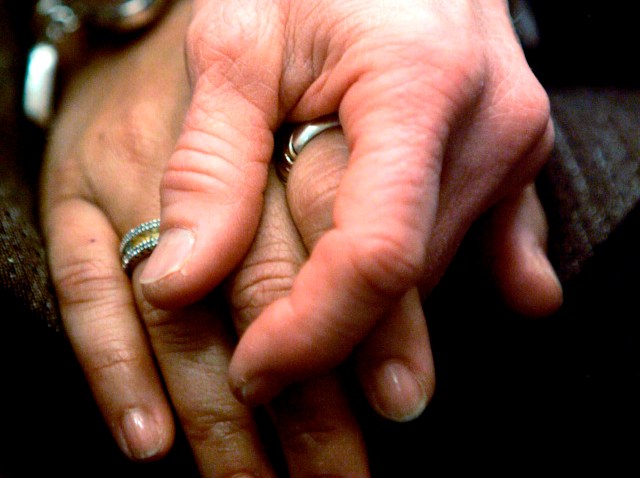 Two new lawsuits have been filed on behalf of gay and lesbian couples in Connecticut and three other states to challenge a 1996 law denying married gay couples federal benefits.
One lawsuit was filed on Tuesday in federal court in Connecticut. The other was filed in New York and both were on behalf of couples in Connecticut, Vermont, New Hampshire and New York.
The lawsuits was filed on behalf of Joanne Pedersen and Ann Meitzen, who were married in Connecticut, the New York Times reports, four other couples and a widower.
While their marriage is legal in Connecticut, federal law does not recognize same-sex marriages, something that affects rights afforded heterosexual marriage partners.
The suit addresses DOMA's denial of marriages in connection with federal employees and retirees benefits programs, Social Security benefits, survivor benefits under federal pension laws, work leave to care for a spouse under the Family Medical Leave Act and state retiree health insurance plans that are controlled by federal tax law.
Several plaintiffs who have paid additional federal income taxes because they cannot file a joint federal tax return as a married couple will join the suit once they are officially turned down for refunds, according to Gay & Lesbian Advocates & Defenders.
"(The federal Defense of Marriage Act) must fall. In 1996, when Congress passed DOMA, the stated goal was to harm gay people and same-sex families with this law, and sadly, it has succeeded. Married gay and lesbian couples fall through the federal safety nets that exist for other married people," Mary L. Bonauto, Civil Rights Project Director for GLAD said.

The lawsuit follows one filed in Boston that already has resulted in a judge striking down a key provision of the federal DOMA.
The filing of multiple lawsuits will likely result in several rulings in different federal court districts. It could increase the likelihood that the Supreme Court will eventually consider the issue.

Copyright AP - Associated Press