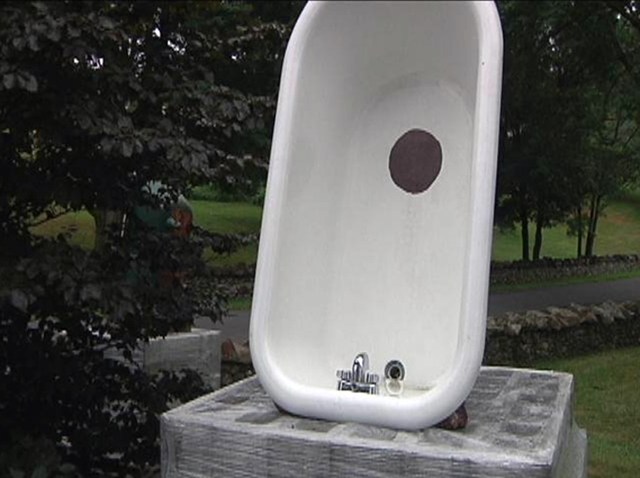 A Middlebury man has turned to antique tubs to convey his suspicion that he's been discriminated against because of his ethnic background.
A display of claw-footed bathtubs on Bob Bosco's Tranquility Road property had been a source of mystery and Bosco kept their meaning a secret until Thursday, when he unveiled the mystery behind the tubs, the Waterbury Republican-American reports.
Bosco says this was his way of getting a message across to Highfield Club, a country club to which he applied to for membership so he could play golf earlier this year.
His membership was rejected and Bosco believes he was "blackballed" by the club, he told the newspaper.
The application process is confidential, so while Bosco might never know the reasoning behind his rejection, he believes it's related to his Italian heritage.
That could help explain why six of the 500-pound tubs on Bosco's property have large black circles painted in the center, representing his belief that he was "blackballed," he told the newspapr. Four other tubs have Italian flags.
"This type of stuff has got to be told once in a while," Bosco tells the Republican-American. "For too long, these things have been swept under the rug. I don't know for certain that's the reason, but if it did happen, people should know about it. I know it has my neighbors all upset, but something had to be done. Once I start something I don't back down."
The Republican American called the Highfield Club, but calls were not returned on Thursday. Highfield was incorporated in 1953 with a nine-hole golf course, swimming pool and tennis courts.
Follow us on Twitter @NBCConnecticut, on Facebook, and sign up for breaking news SMS alerts on your phone by texting "CTBREAKING" to 622669.