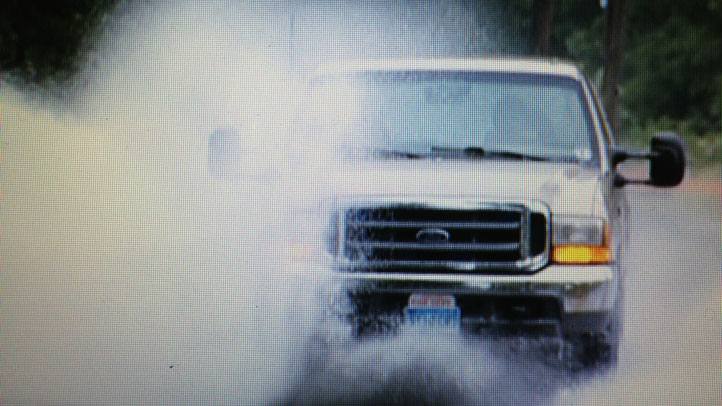 The additional 1 to 4 inches of rain that has fallen since yesterday is causing problems in the state this morning.
The Irving School in Derby has a two-hour delay because of a roof leak in the kitchen and cafeteria.
Great River Park in East Hartford looks like a river this morning with water that is more than ankle deep.
A flood warning is in effect for Central Hartford County in Northern Connecticut until 8:30 a.m.
A flood warning is in effect for the Still River in Brookfield, from this morning until this evening, for the Housatonic River at the Stevenson Dam from early this morning until further notice.
As of early this morning, the north branch of the Park River in Hartford was in minor flood stage, at 8.7 feet and rising slowly.
In Burlington, Bunnell Brook was nearing minor flood stage.
The full list of flood warnings is posted online.
Meadow Road in Farmington is closed from Red Oak Hill Road to Garden Street because of flooding.

In Berlin, Beckley Mills Road is closed because it is flooded to the gun range and Lower Lane is closed near Farmington Avenue.

In Portland, Route 17A and the Portland Fairgrounds is closed because of flooding and the Chester Haddlyme Ferry is also closed until further notice, according to the state Department of Transportation. Motorists have been advised to seek an alternate route.
The heavy rain is now over, but there is still a chance of some pop-up showers this afternoon and evening.
Residents along the Housatonic River have been keeping an eye on the Stevenson Dam and the Maples section of Shelton. While high flood warnings were canceled, this area is prone to flooding when there is heavy rain because the Housatonic River starts to overflow its banks.

The Shelton Fire Department has been forwarding updated information to the Maples neighborhood association, telling people living there to be cautious, but they aren't too worried because many homes have been raised to handle this kind of flooding.

"I'd say a good majority have been raised, have been renovated. There's a few houses that are still the single-story homes, low to the ground. As far as those houses go, flooding is very minor, maybe half a foot, a foot of water."

Heavy rain has fallen and more is on the way, threatening more poor drainage, urban-street and river/stream flooding is likely.
If you see ponding on the roadways, turn around and don't drive through it.
For tips on the hazards of walking or driving through flood waters, see the National Weather Service "Turn Around Don't Drown" Web site.
DOWNLOAD THE NBC CONNECTICUT WEATHER APP
To prepare, residents flocked to hardware stores to stock up on flashlights, batteries and sump pumps.

"I've called a number of basement experts and they're coming next week to get some estimates and I'm getting a wet/dry vac and I'm just going to clean up what I have and keep everything off the floor," Kim Dugan, of West Hartford, said.
Rainfall Reports (2 inches or more):
Canton: 2.75 inches
Avon: 3.03 inches
Berlin: 2.46 inches
Manchester: 2.37 inches
Burlington: 2.88 inches
Newington: 2.90 inches
South Windsor: 2.10 inches
Granby: 2.40 inches
Southington (Plantsville): 2.72 inches
Farmington (Unionville): 2.60 inches
West Hartford: 3.24 inches
East Hartford: 2.65 inches
Hebron: 2.40 inches
Mansfield: 2.13 inches
Hampton: 2.15 inches
Eastford: 2.08 inches