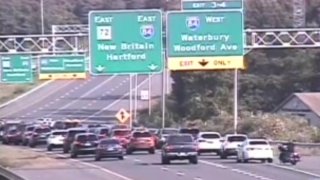 A man from Windsor has died after a motorcycle crash on Route 72 east in Plainville over the weekend.
State police said 47-year-old Kendell Alston was traveling on Route 72 eastbound near exit 3 shortly before 3 p.m. on Sunday.
While driving, Alston struck the guardrail barrier off the left side of the road. The impact of the collision caused Alston to be ejected from the motorcycle, authorities added.
Alston was pronounced dead at the scene.
The highway was closed between exits 4 and 7 for hours. It has since reopened.
The crash remains under investigation. Anyone with information or anyone who witnessed the collision is asked to contact Tpr. Benjamin Rafala #755 at Troop H at (860) 534-1000 or through email at benjamin.rafala@ct.gov.