You could call this month's rain feast or famine across Connecticut. Some towns managed an absolute soaker of a month (New London County) while other towns suffered through another month with below normal precipitation.
The monthly rainfall reports from cooperative weather stations and airports across Connecticut show anywhere from a bit over 2" in Windsor Locks to nearly 7" at the Norwich Public Utility coop station.
Having a dry October for a large chunk of the state (outside of Windham/New London Counties) is bad news. October is, on average, thew wettest month of the year. The 30-year average at Bradley Airport is 4.37" for the month of October. This October we managed less than half of that with 2.17" of rain for the month.
But for the areas where it poured - it really poured! The monthly CoCoRaHS reports from volunter weather observers across the state reveal two locations in New London County with over 8" for the month - 8.61" in Waterford and 8.19" in New London. That is a very impressive month of rain!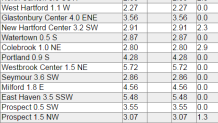 So how do things look going forward? More drought? More rain? The 8 to 14 day outlook from the National Weather Service shows warmer than normal temperatures and drier than normal precipitation next week. Not exactly a welcome sign for the areas that missed out on October's heavy rain. At least right now no change in the overall dry pattern that's been plaguing the state for months.
Get the full forecast here.
Connect with me on Facebook and Twitter!