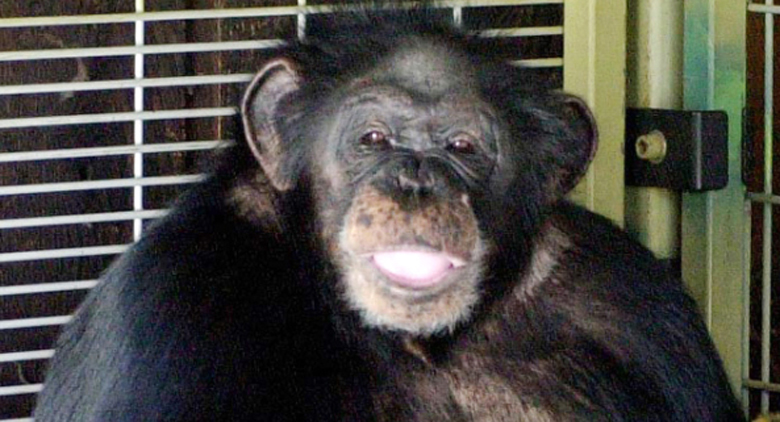 Officer Frank Chiafari plunged into "a depression beyond depression" when he had to shoot and kill Travis, a chimp that had mauled Charla Nash last year.
On Thursday, he made his first public appearance since the attack.


Chiafari was denied compensation for post-traumatic stress disorder because compensation is only awarded to an officer who has to kill a human, which is what prompted his appearance before the
state Labor and Public Employees Committee
on Thursday.
State Senator Andrew J. McDonald has introduced legislation that would cover an officer's claims for mental or emotional impairment when officers use deadly force on animals that attempt to injure them.
Chiafari said the incident was just as disturbing as if he had killed a human when he
opened up to the New York Times
on the subject for the first time this week.
Travis the 14-year-old chimp spent his life living more like a human than an animal. He ate steak, drank wine, appeared in Old Navy and Coca-Cola commercials, and even drank Xanax the day he lost control. So it's no surprise that Chiafari and other locals thought of him almost as a child rather than a pet.
"When I saw him, he was small and cute and friendly — he'd wave at you. Who would have ever thought when we were playing together, we'd have this incident 15 years later?" Chiafari told the New York Times.
Then, the 2009 attack happened and
Chiafari said he came close to being the next victim of an animal he calls a "monster."
While Chiafari was denied coverage, eventually the city of Stamford awarded Chiafari the compensation he sought for his visits to the therapist.
Chiafari testified on Thursday and asked the committee to consider a bill that would allow officers who are required to use deadly force on animals to file workers' compensation claims.
Chiafari says he never experienced post-traumatic stress in his 25 years as an officer until his fateful encounter with the chimpanzee.
McDonald could not attend the hearing and provided written testimony.
"First (Travis) ripped the side-view mirror off Officer Chiafari's cruiser and then, unbelievably, opened the driver's side door in an attempt to make Officer Chiafari his next victim … The gruesome risks presented to Officer Chiafari that day were far beyond those any sworn officer should have to bear, and the burden he carries with him every day since is just as unbearable," McDonald wrote.
Existing law would allow an officer using the same deadly force on a person to save himself from serious physical injury or death workers' compensation for emotional distress injuries.
"Because this officer was forced to shoot and kill a 220 pound chimpanzee, who was more dangerous and powerful than a 220 pound man, he is not covered under current law," McDonald said.
Copyright AP - Associated Press