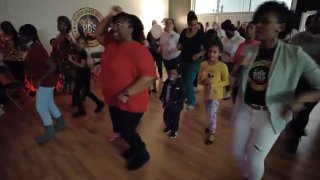 There is a brand new space in Hartford that is getting people moving and expanding perspectives through multicultural dance classes.
With beats, coordinated steps, and encouragement, Passion Dance Studio on Park Street opens its door Monday. A soft opening Friday drew more than 50 dancers, from experienced to beginners.
"I am honestly elated with joy," said Victoria O'Connor, Passion Dance Studio Founder. "It gives me purpose. I feel really loved. I've known these kids since they were in kindergarten.
O'Connor, the dancer behind the new business venture, teaches dance as part of physical fitness at a Hartford elementary school. Now with her new business, she is making the art accessible to even more people in Hartford.
"I was never able to attend dance classes consistently growing up as a kid," O'Connor said. "This makes me truly grateful that I can finally open up an affordable extracurricular activity for children who love to dance, but might not have the same access to it as other."
Growing up bicultural, she aims to bring a multicultural perspective to dance.
"I'm Jamaican and Puerto Rican. My father is Jamaican, my mother is Puerto Rican," O'Connor said. "It's just in me. And I want to bring that out and have others become exposed to it as well. Because it's really fun!"
Passion Dance Studio offers classes in a variety of styles from all across the globe.
"Hip-hop, salsa, jazz, and contemporary dance fitness, Afro beats, other African dances, ballroom dances," O'Connor said.
Now that she is a female and black business owner, O'Connor is honored to represent Hartford and give back.

"It's empowering. It really is," she said. "I'm just really happy to offer an after-school, evening activity that's positive, and it gets bodies moving."
Making an impact, through dance and diversity.
"One thing they can be flexible. Not regarding their bodies, but flexible in knowing multiple styles," O'Connor said. "They would actually be open to experiences of with people of those different cultures."
Passion Dance Studio has classes five days a week on Monday, Tuesday, Thursday, Friday and Saturday. Anyone who would like to sign up for a class can register online here.