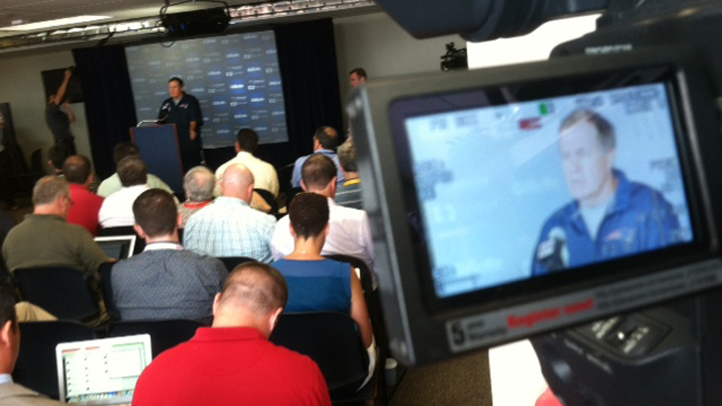 New England Patriots coach Bill Belichick publicly addressed the arrest of former Patriot Aaron Hernandez for the first time on Wednesday and said he was "shocked" and "dissapointed" by what he learned in this case.
Hernandez was arrested last month and has pleaded not guilty to murder in the death of Odin Lloyd, a 27-year-old Boston semi-professional football player whose body was found June 17 in an industrial park in North Attleboro near Hernandez's home. He had been shot five times.
The team released Hernandez on the same day he was arrested and later held a jersey swap event for people to turn in their Hernandez jerseys and exchange them for another shirt.
Patriots owner Bob Kraft said he was duped, but the team has not said much about the arrest.
Belichick said he was advised to address the issue once, so he is not expected to comment further on the ongoing case.
Belichick said he was out of the country when he learned that Hernandez was under investigation. After consulting with team ownership, the team acted "swiftly and decisively," Belichick said.
"This case involved an individual who happened to be a New England Patriot … This does not in any way reflect the way the New England Patriots want to do things," Belichick said.
"I am personally disappointed and hurt in a situation like this," he added.
Belichick went into a little detail on what the team evaluates before signing a player onto the roster, and that includes looking into the player's history, including his family, where he grew up, his high school and college experience, maurity, intelligence and more.
Belichick's news conference happened the day after Patriots Quarterback Tom Brady spoke with Peter King, of MMQB, and answered a question about the arrest of Hernandez.
"(M)ental toughness and putting aside personal agendas for what's in the best interest of the team matters most," Brady said, in part.
He went on to say that he is focusing on "the great teammates I have who are committed to helping us win games." You can read the rest of Brady's comments on MMQB.
You can watch the news conference live online here.
The news conference happens around the same time Hernandez is expected in a Massachusetts courtroom for a probable cause hearing.