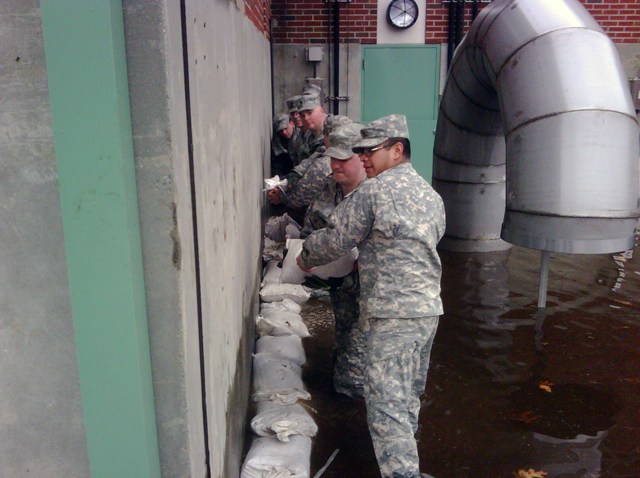 Gov. M. Jodi Rell has returned to the state and headed to Stonington and Jewett City on Wednesday to see the flood damage and recovery efforts as southeastern Connecticut deals with the third day of rain issues.
At 1:30 p.m., Rell met with the Stonington First Selectman in Pawcatuck and then toured the sewage treatment facility in danger from flooding at 52 Wedgewood Road.
She said she got on the first flight back to the state as soon as she could and that the lieutenant governor was in charge while she was away.
Earlier in the day, nine National Guardsmen worked to keep a sewage plant from having to shut down and 40 more troops were on the way.
The sewage treatment plant was under four to five feet of water in the morning and part of the effort was to put down sand bags to try to save the $16 million facility.
It is still operating and management it trying to prevent having to shut it down.
"We've managed to keep the facility functioning. That's the best we can do for now," Ken Sullivan, director of public utilities, said.

The plant services roughly 3,000 customers in Jewett City and parts of Lisbon and Griswold. Closing it would have serious consequences, but Sullivan said it might be necessary, depending on Mother Nature.

"If floodwaters come into the building to a point that it's a hazard. We'd have to do what we had to keep people safe," Sullivan said.
The swollen river also caused havoc for residents of the nearby condominium complex on South Main Street. They were woken at 5 a.m. on Wednesday to learn that they would have to leave their homes because of rising water levels.
As water spilled into their front yards, state police and local fire officials went door-to-door, getting about 45 residents to leave the complex, carting belongings and pets to shelter.
Kristol Skidgel, of Jewett City, cannot usually see the water from her bedroom.
"Tonight I watched it keep going.. It's faster than normal," she said.

Norman Bourassa saw water coming up the street and his neighbor's backyard is totally flooded.
From there, buses took the residents to a senior center for shelter.
There was also a voluntary evacuation for residents of the Pachaug River, where some residents said their basements were flooded.
As they left their homes, residents described the rising water as creepy.
Police in the Pawcatuck section of Stonington have also evacuated three apartment complexes. It was a mandatory evacuation for the apartments located near the Pawcatuck River.
As water continues to be a problem, local officials are trying to find enough shelter for the overwhelming number of evacuees and a church is opening its door for residents. Stonington's superintendent made the call to close schools for Thursday.
Across southern and southeastern Connecticut, flash flooding is slowing down, but the problems are not over. The Quinebaug River in Griswiold has yet to crest and that is expected to happen at some point on Wednesday.
The Yantic River crested on Tuesday, reaching 13.23 feet. It is now receding. Tolland County is the only county in the state that is not in a flood warning.