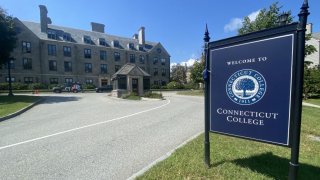 New London Police said a suspicious-looking item prompted students to shelter in place at Connecticut College Wednesday night.
Authorities said they were called to Crozier Drove on the Connecticut College campus at about 8 p.m.
Students notified campus safety officers of a suspicious item on a walking path between the Crozier Williams Student College Center and the Plex.
The item was described as a metal cylinder taped with wires sticking out of it, police said.
Because of the item's appearance, New London Police and campus safety officers cleared the area and students were told to shelter in place. The state police bomb squad was called in and confirmed the item to be safe.
Police later determined that the item was a part of a recent repair to LED lighting on the walking path. The shelter in place was ultimately lifted and there's no danger to the public.