Police in Enfield are investigating the death of a woman found in her home on Wednesday morning and say a person of interest in the case was involved in a car crash in the victim's vehicle.
According to authorities, a 79-year-old woman was found dead inside of her home on 2nd Avenue after officers went to do a well-being check on Tuesday night. Investigators said it appears she was bludgeoned to death inside her home.
Though police have not confirmed her identity, the medical examiner's office says the home's owner, 79-year-old Frances Battagler, was brought in for an autopsy. On Friday, the office of the chief medical examiner determined that she died of blunt head trauma and the cause of death was blunt head trauma.
Police said the well-being check was prompted by a letter someone received in the mail.
"It was prompted actually by a letter that had been written. The recipient of the letter brought that letter to the police department. That letter was reviewed by officers there and that in turn was what prompted our response to this location," said Enfield Police Chief Alaric Fox.
Police said the letter was written by 35-year-old Anthony Ward and sent to a family member.
Police identified Ward as a relative of the victim. Neighbors told NBC Connecticut that Ward is the victim's grandson.
Ward was involved in a car crash in Wethersfield and is currently at the hospital, according to police. Detectives are waiting to interview him.
Investigators said that Ward was in Battagler's car at the time of the crash. The car, a 2013 black Toyota Corolla, had been reported stolen.
Ward is considered a person of interest in the woman's death, according to police.
"Mr. Ward is a relative of the victim. We know that there was recent contact between the two of them and he, at present, is an individual we need to speak to in regard to this event," said Fox.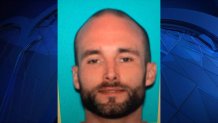 "He's an individual that members of this agency have had interactions with in the past. At this point, we're characterizing him not specifically as a suspect, but as an individual that we certainly need to speak to in regards to this event," Fox added.
Neighbors described the victim as a friendly person.
"I started crying at work 'cause that's just shocking. How could you do that? She was such a sweet, just a little old lady. She didn't bother anybody. It doesn't make any sense," said Grace Hart.
Police said there is no concern for public safety.
If you have any information, you're urged to call Enfield Police at 860-763-6400.