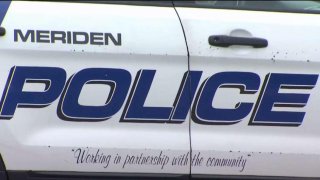 Meriden officers responded to a prisoner who had escaped while in custody Tuesday morning. 
Police said Dasmen Moore, 23, of Meriden was picked up by a U.S. Corrections Agent at the Meriden Superior Courthouse and was being transported to Polk County, Fla. when he escaped the transport vehicle as it was stopping at a red light. 
According to authorities, Moore had been secure in the rear of the transport vehicle before pulling away from the courthouse.
Officers arrived around 10:50 a.m. to the scene, where it was reported that Moore was seen riding a bicycle on the corner of Colony and Washington streets. It is not clear where Moore got the bicycle from. 
He was then seen running on foot into the Women & Families Center on 169 Colony St. where he was then taken into custody by authorities.
Previously, Moore was wanted for burglary of a dwelling and grand theft of a dwelling with a nationwide extradition warrant out of Polk County Florida.
Moore was charged with first-degree escape, first-degree interfering and second-degree breach of peace. His bond is set at $125,000.00 and his court date is July 7.