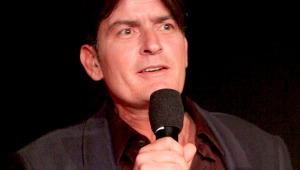 Being fired from Two and Half Men has given Charlie Sheen time to start a Web show, plant a surprising kiss on Jimmie Kimmel and expand his "My Violent Torpedo of Truth/Defeat is Not an Option Show."
Not only is he performing at the Oakdale Theater in Wallingford, he's also added MGM Grand at Foxwoods to his tour.
On Thursday afternoon, he tweeted "#TORPEDO Warlock unstoppable! 2nd Toronto show added!! Also FOXWOODS CASINO! Be there... Ybw Details!!"
Oh, the wonder of it all!
If you are one of many people in this country who do have an interest in seeing what Charlie will do and say live, there are still tickets available for the Oakdale show.
Tickets for the Foxwoods show go on sale on Friday.
He's also hosting meet and greets, which puts you in one of the first 10 rows and includes meeting Charlie, a personal photograph with him, and autographed 8-by-10 photo, a collectible numbered tour poster and an official meet and greet laminate.
No word on whether you also get a vial of tiger blood.