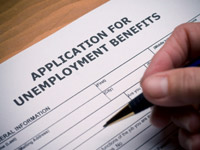 The state has borrowed millions to cover unemployment compensation, and the governor and Republican lawmakers are at odds over how to repay the money.
The state has borrowed about $545 million from a federal fund for jobless workers and Gov. Dannel Malloy said that, if the federal loan is not repaid by Sept. 1, businesses would have to pay an additional fee for each employee.
The prospect is unpopular in the weak economy.
Republican state Sen. John Kissel said the Legislature -- not the state Labor Department -- should figure out a solution to repay the debt.
A legislative hearing has been scheduled for Thursday.
President Barack Obama has proposed giving states the choice of increasing business taxes, altering benefits or a combination of both.

Copyright AP - Associated Press