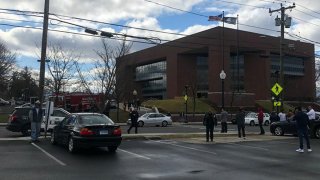 Superior Court at 146 White St. in Danbury was evacuated because of white powder Thursday morning and the substance substance turned out to be Tylenol, according to the fire department.
Firefighters responded to the courthouse just after 10 a.m. after white powder was released in the lobby and they worked with police and court officers to evacuate the more than 200 people who were in the building.
While waiting for results on what the substance was, the Housatonic Area Regional Transit company supplied a bus for people to use to get out of the cold.
The affected area has been cleaned and people were allowed back into the building, according to fire officials.
Officials said this appeared to be accidental and there was no threat to the public.