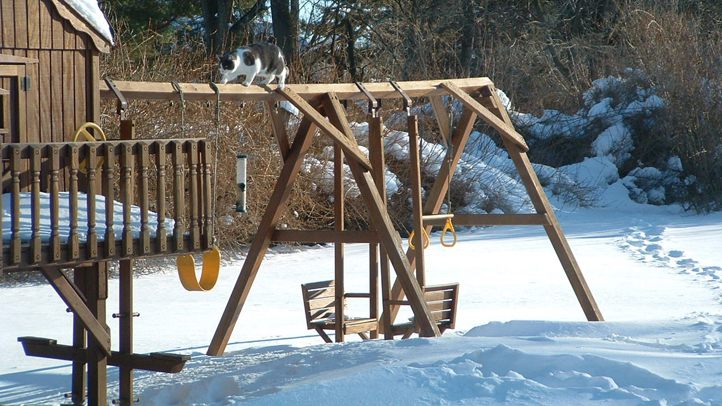 Forget the jet set. In one affluent Connecticut town, the issue of the day is the swing set.
Officials in the wealthy town of Westport will be debating on Thursday about whether to scrap a rarely enforced rule regulating where swing sets can sit on homeowners' properties.
It's an issue that's already in court, the subject of a zoning appeal by a man whose attorney is asking Westport to change its rules.
Cary Moskowitz has been ordered to remove his 7-year-old daughter's swing set because it's too close to the property line, Westport Now reports.
But he cannot move it to another part of the yard because the rest of his land is too hilly or has wetlands.
The median income in Westport is $193,500, according to CNN Money's "Best Places to Live List."
With million-dollar houses and high disposal incomes, some Westport residents are are more likely to buy Creative Playthings sets, which cost thousands of dollars, rather than one for sale at Walmart.
The sets cost thousands of dollars and you can customize it to your preferences/
However, the swing set fight only applies to a basic swing set, not those with playhouses or structures that could be considered buildings.
"(The) Application raises the issue as to whether the Town of Wesport truly wishes to regulate the location of basic swingsets and/or play sets on residential properties," Joel Green, the attorney representing Moskowitz, wrote in the application.
"The consistent enforcement by the Town of Westport of the requirements as to 'structures' pursuant to the zoning regulations as they apply to swing sets and/or play sets would be extremely burdensome, expensive and inconsistent with the spirit of a family friendly town where outdoor play and its many benefits are encouraged in all neighborhoods."
Officials said many homeowners have their swing sets in the wrong places. The town's first selectman said they only investigate if a neighbor complains.

Copyright AP - Associated Press