Three firefighters from Stamford were awarded Medals of Valor for their work rescuing two people in blizzard conditions.
The White House said the awards are given to public safety officers for their "extraordinary valor above and beyond the call of duty."
The White House said John Colandro, Michael Rosero and Chad Titus are being honored after diving into freezing water during a blizzard to rescue two people that were trapped in a truck.
"We are very proud of the brave actions of these Stamford Firefighters," said Mayor Caroline Simmons. "This is one of the highest honors to receive and our City celebrates their heroic actions and we are extremely proud that their actions were acknowledged by the President of the United States."
The rescue happened in February 2021 at Cummings Park.
Extreme winds, snow and the tide moved the truck and caused it to fill with water, according to fire officials.
Stamford fire officials said the firefighters rescued a woman before the truck became fully submerged in water. Shortly after, the firefighters were able to break a glass window while underwater and rescue the person inside.
"Their actions represent the greatest traits of the Stamford Fire Department - teamwork, ingenuity, and heroism - and shows the unwavering commitment of our brave men and women to selflessly protect the life and property of Stamford residents," said Ted Jankowski, the director of public safety, health and welfare.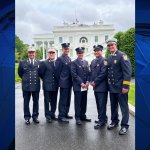 The White House said that all three firefighters "demonstrated extraordinary courage" to save the the victims.
"It was an honor to be at the White House to see our firefighters receive this great honor by the President of the United States," said Fire Chief Trevor Roach. "These members are heroes among heroes who performed those rescues with determination, under treacherous conditions. Their actions have made the department extremely proud."
The firefighters were among 15 public safety officers to receive medals during Monday's ceremony. Two officers that died in the line of duty were also honored.