Fish Tacos: the perfect marriage of Mexican flavors with the New England seafood tradition. Check out these top Connecticut tacos and prepare for the flavor waves.
Pancho's Tacos - Danbury
Since opening doors in 1991, Efrain Bernabe and his family have been serving authentic Mexican food to their hungry Danbury customers. As the name suggests, their specialization is tacos and their fish variety does not disappoint. Choose either Shrimp or Fish and don't forget to order a side of guacamole.
($11.99, 3 tacos per order)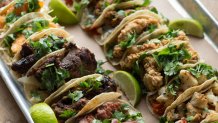 Bartaco - Stamford, West Hartford, Westport
Beautiful food with all of the flavor. That should be the motto of Bartaco, a casual Mexican tapas restaurant serving upscale street food that is Instagram ready. Their fish tacos options are expansive from the classic baja fish to the fried oyster to the adventurous shrimp "bahn mi." And as if you need more convincing, Buzzfeed has named it as one of the best places for tacos in America.
($2.50-$3.50 per taco)
Bodega Taco Bar - Fairfield and Darien
It's a bird, it's a plane, it's the Bodega Taco Truck. This spicy truck is serving up delicious seafood combinations like the seared ancho chili shrimp or the seared tuna and sriracha aioli taco. Forget the stress of finding a free table. After all, you don't need a table to enjoy one flavor bomb of a taco.
($4-$5.50 per taco)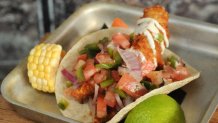 Shanks Waterfront Dining - Clinton
Everyone likes to know where the food is coming from and at Shanks it's as easy as looking over the railing. Located on the Harborside Marina in Clinton, diners can enjoy beautiful views of the sound while eating a fish tacos made in their renovated kitchen, which happens to be an old fishing boat. Each taco comes grilled or fried with a variety of toppings including mango pico de gallo and chipotle aioli.
(2-3 per order $11.99-$12.99 per order)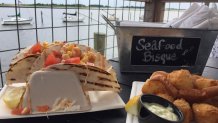 Besito Mexican Restaurant - West Hartford
Those who think Mexican food isn't upscale haven't been to the elegant Besito Mexican Restaurant in West Hartford. The wood paneled, candle lit restaurant serves two delicately presented fish tacos, either the original fish or the shrimp. Come here for an elegant night out without paying an arm and a leg to enjoy it.
(3 Tacos per order, price varies for Lunch and Dinner)
El Camion - Woodbury
El Camion knows what it means to infuse their food with lots of big flavors. The menu might not be large, but that is just a sign of how much effort is put into preparing each dish to its fullest. The fish taco is made from white fish that is marinated in coconut milk and lime, then crusted in cornmeal and served with mango salsa, shaved cabbage, and sour cream. Take a bite and enjoy the taste bud fiesta.
($3.25 per taco)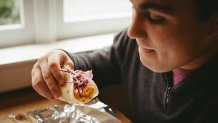 Rincon Taqueria - Norwalk
College Students rejoice, Rincon Taqueria is bringing out ginormous portions that won't break the bank. Enjoy a fish taco the size of your head and piled up with more toppings than you can count. Did we mention that it's delicious too? And at that price why not buy a second...or a third...and maybe another one for the fridge.
($4.00 per taco)