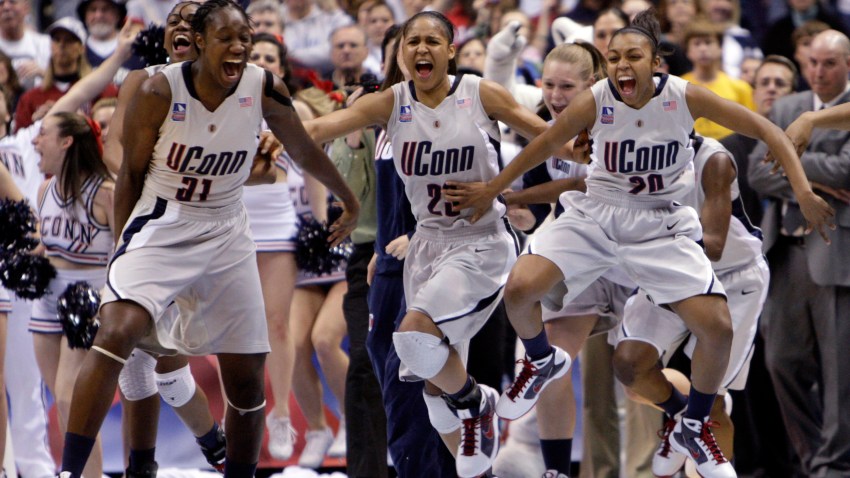 UConn's women's basketball team could break their own winning streak for consecutive victories when they next play, but that's not what Geno Auriemma says he's focusing on.
He's more interested in winning a 16th Big East tournament title.
"Let's say we win tomorrow and lost Tuesday, what are the kids going to do, go to half court and put their fingers up and say, 'We won 70, 71?" Auriemma said.
Tonight, UConn faces sixth-ranked Notre Dame and tries for its 71st straight win. On Sunday, the UConn women tied the record they set from Nov. 9, 2001 to March 11, 2003, when they beat Syracuse, 77-41.
Part of UConn's success this run is the Huskies' ability to block out the bigger picture.
"Any record or history doesn't really mean much if we don't accomplish our next goal, and that's beating Notre Dame," said Maya Moore, who got her 2,000th career point in Sunday's win.
The last time UConn had 70 straight wins, the streak ended in a Big East tournament semifinal loss to Villanova. But that Huskies team was different from the one that had gone undefeated the year before.
"The first time we went through this, the following year we had to replace four All-Americans and replaced them with a lot of inexperienced players," Auriemma said. "We had one great, great, great player who pretty much carried our whole team."
This time, it's different.
Since UConn won the school's sixth national championship last year, they lost only one player.
Moore -- the national player of the year -- All-American Tina Charles and two other starters from last year's undefeated team are still with the Huskies.
Having so many players back has helped UConn win every game of its current streak by double figures and an average of over 32 points. The Huskies have already beaten Notre Dame twice this season, including a 25-point win last Monday.
Still, the school does have a history of ending notable winning streaks.
Notre Dame stopped Oklahoma's 47-game winning streak in football in the 1950s, UCLA's 88-game winning streak in men's basketball in the 1970s and North Carolina's 92-game winning streak in women's soccer in the 1990s.
Copyright AP - Associated Press