A surge of warmer air is going to drive a warm front through New England aloft this evening - but temperatures near the ground will still be close to 32F. As the warm air surges in we'll see a period of very light precipitation develop around sunset which could lead to some icing on any untreated surfaces. In the hills it should be cold enoughf or a period of very light snow.
After a cold snap, especially with snow on the ground, temperatures on paved surfaces can remain subfreezing even as air temperatures warm. Any surface that's salted will be fine but anything that is not could become slick. We're looking at the 4 p.m. to 8 p.m. window this evening. This sounding from Hartford off the NAM model shows low level temperatures near 32F with some moisture moving in.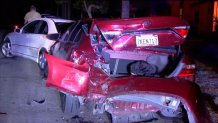 All in all this doesn't look like a major issue but anything that appears wet around nightfall could be slippery. Temperatures will warm well above freezing after midnight with a period of heavier rain moving in.