Meteorologist Josh Cingranelli here guest writing for Ryan Hanrahan while he's enjoying his vacation in Italy.
The warm air and high humidity will come to an end this weekend as a strong cold front moves through the region.
The European forecast model has the front moving through the state around 18 UTC which is equivalent to 2 p.m.
The front will bring in showers and thunderstorms Saturday afternoon. I've been monitoring the severe weather potential over the past couple of days.
Take a look at the forecasted weather sounding for 12 UTC on Saturday for the Hartford area.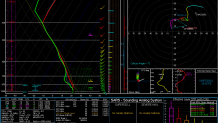 A couple things we look at for severe weather is, CAPE (convective available potential energy) and shear. Shear is how much the wind speed and direction changes as the height from the ground into the atmosphere increases.
This sounding is displaying decent shear values but lacks CAPE. While we're still forecasting thunderstorms we don't anticipate a widespread severe weather outbreak.
The front will bring in much drier air which will rapidly decrease humidity values. Check out the dew point values prior to the front moving in and the dew point values after the front passes.
DEW POINT VALUES BEFORE THE FRONT: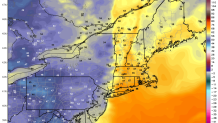 DEW POINT VALUES AFTER THE FRONT PASSES: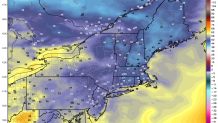 In addition to the drier air, an anomalous shot of cooler air will settle in for early next week. High temperatures are forecasted to be 10 to as much as 20 degrees below normal through the middle of the week.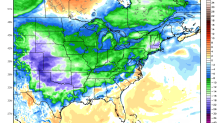 We expect temperatures will climb back into the low 80s by the end of next week.