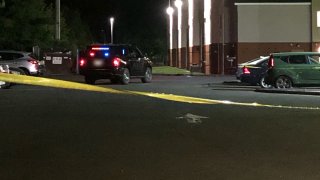 A woman was stabbed several times in Windsor Locks Thursday night and police have arrested the suspect.
Police said they received a call at 10:30 p.m. reporting a stabbing at Candlewood Suites and they found a woman with several serious stab wounds bleeding heavily in the back of the Day's Inn, which is adjacent to Candlewood Suites.
The woman was transported to a local hospital, where she underwent surgery. She remains hospitalized Friday, police said. 
Police said they identified the assailant, a male, and he was sent to the hospital for a laceration to his hand that required surgery.
The suspect has been identified as 36-year-old Victor Virola of Hartford. he is charged with attempted murder and first-degree assault.
Police believe the two people know each other and said this was a case of domestic violence. Virola was held on a $700,000 bond and is due in court on Monday.
The CT State Police Major Crime Squad responded to process the scene as Windsor Locks detectives and patrol officers investigated.
The investigation is ongoing.