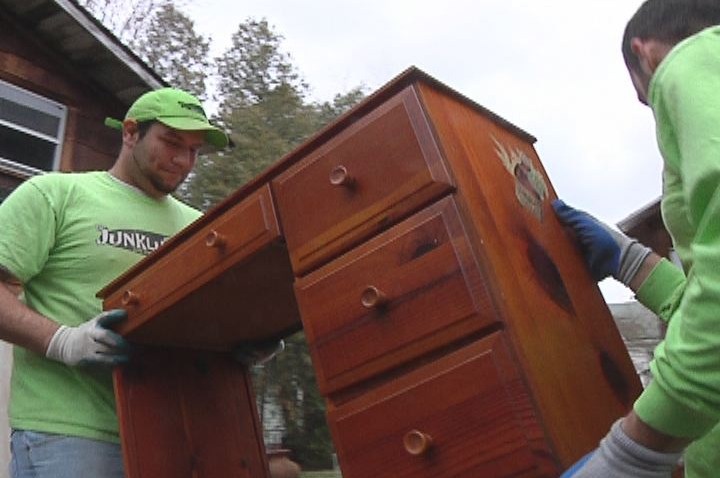 When most people go to the landfill, they leave with less than they came with. It's sort of their goal. Not Fred Suppe. For him, the trip is like a day of shopping.
"One man's junk is another man's treasure," he said. He's been seeing it that way for 15 years.
Where you or I might see an old rusty frying pan, Suppe sees the head of a character he's creating. He just has to spray paint the pan yellow. Drill bits? Those are legs.
Rakes can become hair or the tail of an exotic iron bird. Shovels are bodies, with bike handlebars as arms, cobblers' molds as feet, and the eyes are actually locknuts spray painted a bright blue.
Suppe shrugs when people call this stuff "art." He says he's not had any art training and that he's just welding some stuff together for fun.
He's an electrician by trade, and most days he's out fixing people's outlets and working among the circuit breakers. But he's always on the lookout for the perfect piece of junk to store in his pool house until the moment when he sees what it will become.
He goes to tag sales and even has his customers, family and friends looking out for objects he might need.
His wife, Nancy Suppe, says she's been known to pull over in the car and grab old handle-less shovels from the side of the road. And the towns that still have bulk trash pickup?
Suppe takes it all and adds it to the collection in his pool house, which is filled with such items-in-waiting.
They're tossed there in no particular order. A pile of hoes and cultivating blades, gears and garden tools and pieces of tractors are all in glorious disarray. Suppe says they have to be that way.
"When I'm working on something, and I need a part, I go through the whole pile -- and that's when I find things I might have never thought of, and I can see things that would even work better than what I might have been planning," he says. "I don't ever stop doing a sculpture while I wait to find the perfect part. I use what I have. That's part of the fun."
He collects things all year, but he doesn't work on the sculptures until summer usually. As his family splashes in the pool, he'll hang out on the patio get an idea for maybe making a sculpture.
On a decent weekend, he makes five or six objects, welding them outside.
"I don't like just sitting around the pool, hanging out in the sun," he says. "I like to be working on this stuff."
His yard is decorated with some of the sculptures, but mostly he gives them away to family and friends.
"You couldn't make a living doing this. Anyway, it's just for fun," he says. "They make me happy."

Copyright AP - Associated Press