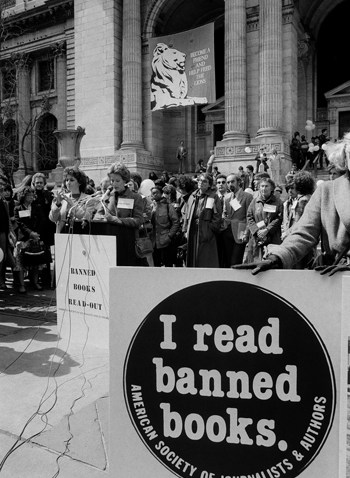 At least once a year, Charles Brownstein receives a call complaining about the popular graphic novel "Watchmen."
As the executive director of CBLDF, Brownstein assists in about two dozen cases a year. When an attempt is made to ban a comic like "Watchmen," he tries to settle the issue — whether it's through educating the complainant or managing the legal aid of individual readers, creators, sellers and librarians.
"In comics you can open randomly to a page ... and with no other knowledge of the book, say, 'Why is there a giant naked blue guy walking around? Why is that in my library?'" he said of the Alan Moore and Dave Gibbons novel.
Brownstein's first response is to start a dialogue about a piece, explaining why the work is important.
This week, libraries, schools and bookstores across the country will be attempting the same feat. Sunday was the first day of Banned Books Week, a national initiative to raise awareness of censorship and to celebrate the freedom to read.
According to Maggie Jacoby, the coordinator of the Banned Books Week Coalition, many people don't know that this is still an issue in America. While it's on a smaller scale than in the past, the problem still persists.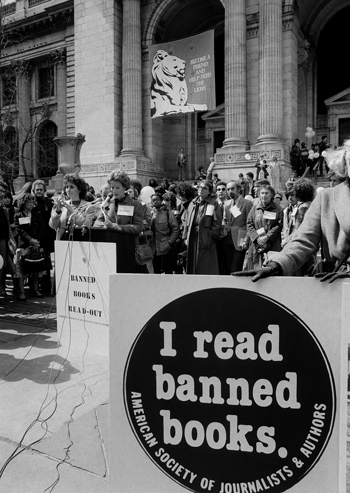 The American Library Association receives about 300 calls a year from people complaining about books or wanting them banned from libraries or schools. This may seem like a low number, but Barbara Jones, executive director of ALA's Office for Intellectual Freedom, said the number of complaints is a vast underestimate. That's because some people take action on their own and libraries don't always report when such books go missing.
"Each book taken out of a library represents X number of readers. If it's a city library, that's hundreds of people who have lost access to that title," Jones said.
The most common complaints that Jones receives are about sexuality, Muslims, gay rights, and "darkness" of subject matter in books like "The Hunger Games."
In 2014, the majority of challenged titles were from the young adult genre. Among those on the list included John Green's "Looking For Alaska," Lois Lowry's "The Giver," and "And Tango Makes Three," a children's book about two male penguins who adopt a baby.
The most-challenged book is Sherman Alexie's "The Absolutely True Diary of a Part-Time Indian." According to the Banned Books Week website, the reasons include: "anti-family, cultural insensitivity, drugs/alcohol/smoking, gambling, offensive language, sex education, sexually explicit, unsuited for age group, violence" and "depictions of bullying."
Alexie's book has historically caused controversy since its publication in 2007. Last spring, it was pulled from schools in Waterloo, Iowa, according to the Waterloo-Cedar Falls Courier, a local newspaper. The Waterloo School District declined to comment about the situation.
Based on the volume of complaints regarding books for teens, the theme of Banned Books Week this year is "Young Adult Fiction."
Brownstein thinks the complaints about young adult novels arise from fear over the "transformational" era that young people are living in. He thinks that parents are scared.
"You hear the initial complaints of 'I'm upset that [my kid is] reading this John Green book because this John Green book addresses sexuality. They shouldn't be reading about that yet,'" Brownstein said. "It really just comes down to 'I don't know how to engage with my kid on this issue because its new and it's scary and I want them to be safe.'"
Banned Books Week hopes to engage readers and create dialogue about the issue through hundreds of events that will take place in local communities around the nation, including lectures, readings, and contests. It first began in 1982, and has grown to include 13 sponsors, including CBLDF, ALA and others.
The DC Public Library system holds events for Banned Books Week every year, despite the lack of a censorship problem in the nation's capital.
"We do our best way to participate in important national initiatives that impact people around the country," said Richard Reyes-Gavilan, executive director of DCPL. "The goal for us is to participate in larger discussions about censorship, information literacy, and privacy."
One of their events includes a discussion with "Shiloh" author Phyllis Reynolds Naylor and "Hey, Dollface" author Deborah Hautzig.
In New York City, Housing Works Bookstore and Bank Street Bookstore are among the many venues with events planned.
This year is the first year that Bank Street Bookstore is having its own event as part of the initiative. As a children's book shop owned by a college and frequented by educators, Bank Street is especially connected to Banned Books Week.
"When you ban a book, you shut down a conversation," said Andy Laties of the bookstore. "By shutting down these conversations, you're shutting down the opportunity for a child to develop critical thinking and to learn about the world."
Jones, of the ALA, echoed the statement.
"So many people are trying to solve problems by banning books. They think they'll solve teen suicide. They think they'll solve the teen drug problem instead of working on the problem itself," she said.
"It really bothers me that people are trying to take the easy way out by solving a huge social problem by banning a book about it instead of dealing with it."