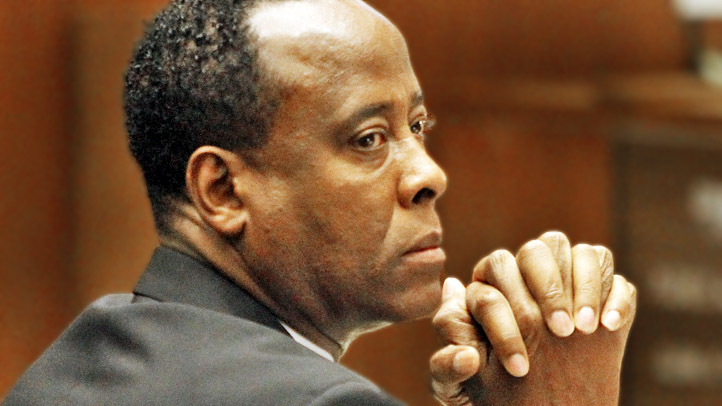 Michael Jackson's personal physician said he will not take the stand in his own defense as witness testimony in his involuntary manslaughter came to an end Tuesday.
Conrad Murray Trial: Dr. Murray's LAPD Interview, Who's Who, Testimony Timeline
Dr. Conrad Murray informed the judge of his decision Tuesday morning, just hours before both sides said they would not present more witnesses after 22 days of testimony. Court will be in recess until Thursday, when jurors are expected to return for closing arguments.
Murray's decision not to testify came after Judge Michael Pastor repeatedly reminded the doctor that he has a right to testify and a right to remain silent.
"Your honor, my decision is, I will not testify in this," Murray told the judge during Tuesday's meeting outside the presence of jurors.
Jackson's sister, La Toya Jackson, tweeted early Tuesday that she "would love for Murray to take the stand."
Jurors already heard Murray's account of the day Jackson died when prosecutors played audio of his interview with Los Angeles Police Department detectives. In the interview two days after the pop star's death, Murray described a restless night during which Jackson pleaded for something to help him sleep.

Testimony resumed Tuesday morning with a defense expert on the drug blamed in the King of Pop's death. Later Tuesday, the prosecution asked its own expert to return to the stand to refute claims made by Dr. Paul White.
Dr. Steven Shafer testified earlier that Murray's actions led to Jacksons' death on June 25, 2009. He was asked to address White's testimony regarding the standard of care provided by Murray in Jackson's case.
"If there was such a thing as bedroom-based anesthesia, the standard of care guideline would be considered an minimum because... if you have an error, you have a mortality," Shafer said Tuesday.
Murray pleaded not guilty to involuntary manslaughter. He could face up to four years in prison and the loss of his medical license.
Propofol was at the center of testimony Monday when the defense's drug expert faced stinging cross-examination. White admitted that Murray deviated from the accepted standard of care in the months before his superstar patient's death on June 25, 2009. Murray gave Jackson the drug, usually reserved for use in surgical settings, in the bedroom of a rented Holmby Hills mansion.

"Without careful bedside monitoring, it could be dangerous,'' White said Monday when he was asked whether it would be extremely dangerous to administer propofol with an IV drip for about two months.

"Have you ever administered propofol in someone's bedroom?" Deputy District Attorney David Walgren said.

"No, I have not," White said.

"Have you ever heard of someone doing that prior to this case?" Walgren said.

"No, I have not," White said.

The seven-man, five-woman jury might begin deliberations late this week. The trial has included testimony from medical experts, medical personnel who responded to Jackson's rented mansion, Murray's girlfriends and Jackson staff members.
The defense has attempted to portray Jackson as an addict willing to take great risks in his quest for sleep as he prepared for a series of planned London concerts. Prosecutors claim Murray administered the fatal dose of propofol, then failed to properly monitor his patient.
Follow NBCLA for the latest LA news, events and entertainment: Twitter: @NBCLA // Facebook: NBCLA