Blame those butterfingers on nerves.
A man who was proposing to his girlfriend in Times Square on Friday dropped the ring and it fell through a utility grate, landing about 8 feet below the sidewalk, the NYPD said.
Officers tried to retrieve the ring, police said, but they couldn't reach it and the couple eventually left.
But police did get the ring on Saturday morning, and now the NYPD needs to find the couple.
Police said the mystery proposer was about 5 feet, 9 inches with short brown hair and a "manicured beard." The lady who is missing some bling is about 5 feet, 5 inches tall with blonde hair.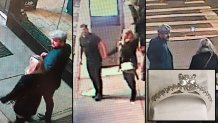 Anyone with information about the couple's location or identity is asked to call the NYPD's Crime Stoppers Hotline at 1-800-577-TIPS.
[NATL] Celebrity Baby Boom: Christian Slater u0026 Wife Welcome Daughter
Top Tri-State News Photos