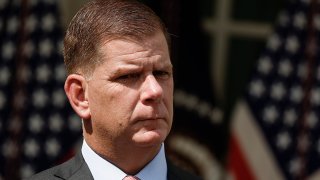 The "designated survivor" for Tuesday's State of the Union address is Labor Secretary Marty Walsh.
Walsh, the former mayor of Boston, Massachusetts, is expected to step down from the administration, becoming the first Biden Cabinet official to do so, NBC Boston reported. He reportedly plans to take the helm at the National Hockey League Players' Association.
By custom at least one Cabinet member does not attend the speech, in order to preserve the Constitutional line of succession in the event of a catastrophe.
The Constitution designates the order of presidential succession among Cabinet members based on the order of the Departments' formation.
Beyond those constitutional requirements, the selection of the survivor usually comes down to more quotidian issues, according to former White House Cabinet Secretary Chris Lu, who helped select the designated survivor seven times during Barack Obama's presidency.
"If there's going to be an extended discussion of an issue, you want the relevant Cabinet member at the speech," Lu said on Twitter.