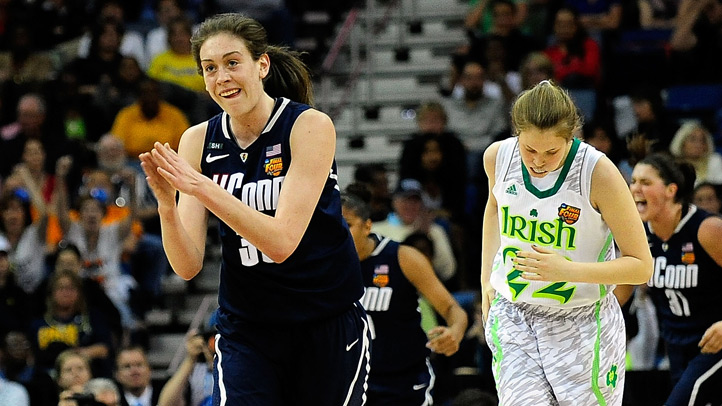 It's not like Geno Auriemma's program needed the exposure -- UConn is coming off a national title and it's perennially considered one of the best teams in the country -- but this is good news nonetheless: We mentioned earlier this month that five players were trying out for the US national team -- Breanna Stewart, Moriah Jefferson and Morgan Tuck on the under-19 squad; Bria Hartley and Kaleena Mosqueda-Lewis on the World University Games Team -- and as of Sunday, all five players had made the final roster.

Stewart, who was integral to the Huskies late-season run, is now a veteran of the U-19 team.

"It's funny how my role is changing, because this is my second U19 team," Stewart said via the Hartford Courant. "Last time I was one of the younger ones. This time I'm one of the older ones, and it's weird. But, I have to be a leader because I've been in these situations before and some people haven't. I have to help show them the ropes."

Other players making the U-19 squad include: Penn State's Candice Agee, Tennessee's Bashaara Graves, Linnae Harper of Whitney Young High in Chicago, Brianna Turner of Manvel High in Pearland, Texas, Nia Coffey of Hopkins High in Minneapolis, Gabby Green of St. Mary's College High in Oakland, Kelsey Plum of La Jolla Country Day in Poway, Calif., and A'ja Wilson of Heathwood Hall High in Hopkins, S.C.

Hartley, meanwhile, admitted she was anxious about her chances of making the World University Game team.

"I was a little nervous," Hartley said. "Even though I have made the team before, you don't want to come in here thinking, 'Oh, I'm definitely going to make the team.' You have to stay humble, but you also want to be confident, thinking you could possibly make the team. You have to come out and play basketball the way you know how to."

The World University Games will be held July 8-15 in Kazan Russia, while the U-19 tournament is slated for July 18-28 in Lithuania.