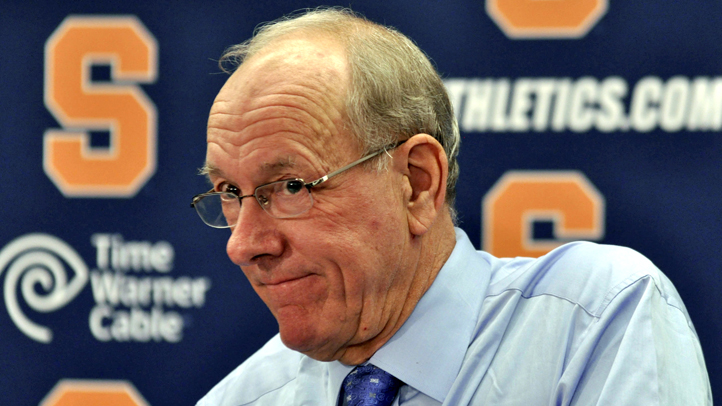 Kemba Walker talked about it earlier this week when looking back on his UConn career, particularly the last six weeks of his junior season: "We won 11 straight games at the end of the season. We lost four of our last five regular season games. We were 9-9 in the Big East. We didn't do well either. Everybody just remembers that last stretch."

The 2011-12 Huskies find themselves in a similar predicament -- 15-8 overall and losing of five of their last six games. The team is short on veteran leadership, although Alex Oriakhi, Jeremy Lamb and Shabazz Napier all played important roles in last year's title run. Still, we're not even halfway through February; a lot can change between now and tournament time, something UConn's next opponent, second-ranked Syracuse (24-1), understands.

On a Thursday conference call ahead of Saturday's matchup, Syracuse coach Jim Boeheim echoed many of Walker's thoughts.

"I think in this NCAA world at the end of the year, it's what team is playing well," Boeheim said. "Last year, Connecticut was 9-9 in the league and then got in the Big East tournament and got going and they just continued on."

Teams can certainly play themselves out of the tournament in January and February, but if they're able to hang around while they sort things out, anybody has the potential to be dangerous in March and April.

"There's a number of really good teams," Boeheim continued. "Last year, the two best teams for the year were Ohio State and Kansas. Neither one made the Final Four. [This year], any of the top teams in the country, literally any of the top eight or 10 teams, could make the Final Four and win the national championship. That's just the way college basketball is, the balance is there. There is no dominant team. There's really good teams that are probably better than the teams behind them, but there are also teams that could lose a game on the way to the Final Four."

The Huskies began the season as the No. 4 team in the country, ranked one spot ahead of Syracuse. The programs have had gone in different directions the last three months but again, it's less about what you've done up to this point than it is about what you do going forward. Boeheim understands this.

"Obviously, we know [UConn's] backs are to the wall and they're going to come out and play the way they always go against us, which is great," he said. "We expect that Saturday and we'd be shocked if anything else happened. …They're a huge inside team. They've got a lottery pick in [Andre] Drummond; Oriakhi is a big, physical strong guy; [Tyler] Olander is a strong guy. They've got good guard play with [Shabazz] Napier and [Ryan] Boatright, and Jeremy Lamb … he's a lottery pick. I'm positive they'll come in here ready to play."

The most amazing thing perhaps is that, despite the names Boeheim rattled off above, the Huskies have somehow managed to lose eight times in 23 games. The good news, of course: there's still time.