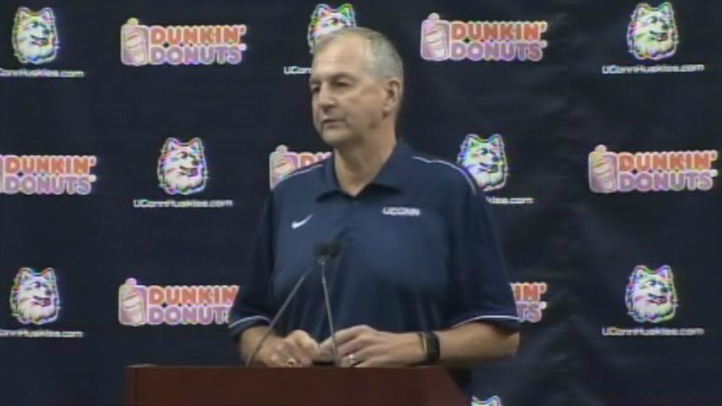 One of the reasons we never thought Jim Calhoun would retire was because, well, what else would he do with his time? He's not your typical 70-year-old in that he's more active than people 20 years his junior, and if you've ever seen him lay into one of his players, it's clear the man hasn't lost the zeal for life.

But one thing he does have in common with septuagenarian retirees: he loves him some golf. So much so, in fact, that he might make a job out of it. The Senior Tour isn't a realistic option, but a television show about golf certainly is. Specifically: Golf Channel's The Back Nine, which would involve Calhoun talking about golf, basketball -- basically whatever he wants.

Former Boston Globe scribe Mark Blaudschun has the details on his blog:
The show would be based in Hartford and have many features and segments with Calhoun playing a major role both in studio and at various golf resorts around the world. How about Calhoun and former President Bill Clinton playing a round of golf together? With backers which include Clint Eastwood and former Husky, Celtic and current Miami Heat star Ray Allen, a start-up date sometime early next year is both possible and likely.

Calhoun also is thinking about writing a book about how the game of college basketball has changed over the last several years. At the age of 70, Calhoun still has the fire in his belly to do more than ride his bike and play golf. A television outlet involving golf and basketball would seem to be perfect fit.
We'd watch.

And as the Hartford Courant's Dom Amore notes, Calhoun's hip has fully healed from an August cycling accident that had him using a cane until recently. And given his aforementioned inability to actually retire, we fully expect the show to be a lot like his coaching style: intense, occasionally funny and always interesting.