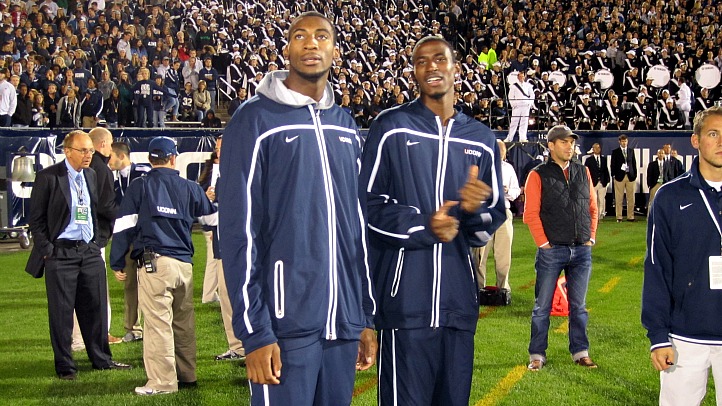 Andre Drummond, pretty much since sending that tweet announcing he was coming to UConn this year, has been the focus of the 2011-12 Huskies. But the freshman class also includes point guard Ryan Boatright and UConn's top recruit prior to Drummond: small forward DeAndre Daniels.

The before-the-season spotlight that has shone so brightly on Drummond could shift to include Daniels, a 6-7 player from Woodland Hills, California, now that college basketball is officially upon us (Midnight Madness starts Friday, October 14 at … 7:00 p.m. ET.)

The Hartford Courant's Dom Amore writes that "He quietly enrolled in classes this summer and, like Drummond and Boatright, he glided easily into the fabric of the team during the pickup games in September. From the start, Daniels says, his new teammates treated him like one of the family."

While Drummond's impact is a foregone conclusion, Daniels could also be in the running for a starting job. Shabazz Napier, Jeremy Lamb and Alex Oriakhi will all see plenty of time, but after that, the mix should include some combination of Drummond, Daniels, Roscoe Smith, Boatright, Tyler Olander and Niels Giffey.
Of course, if we learned anything from last year's championship team it's that the number of starts next to your name in the the end-of-year box score doesn't mean much; coach Jim Calhoun substitutes freely. Olander and Giffey combined for more starts than Napier who, during the postseason run, provided valuable minutes in relief of Kemba Walker.

Either way, Daniels sounds happy to be in Storrs and ready for the season. "I really like being here," he said, via Amore. … "I'm in shape, that's all I'm doing is running and getting layups. People think I'm just cherry-picking, but I'm just running hard."

Calhoun, who was no doubt ecstatic to return for at least another year given the depth on the roster, was pithily restrained in his thoughts his team, the season and expectations.

"We've got a lot of answers," he said, "but we don't have the one big answer."

We'll find that out soon enough, too.