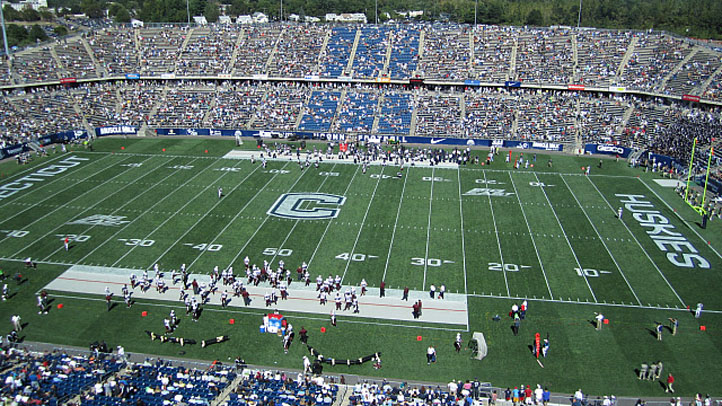 The UConn football team will begin practicing in early August. Until then, we're left to talk about recruits, and speculate about what the 2011 team might look like. The short answers: Paul Pasqualoni has a recruiting strategy that appears to be working, and next season's squad will be led by its defense while the offense searches for an identity. That's been the storyline since the spring and not much has changed.

Last week, we had a very early season preview that said pretty much that. Today we have another preview, this one courtesy of ESPN.com's Big East blog. As you might expect, it's a variation on the familiar theme: "defense good, offense TBA."

In May, Pasqualoni said the scheme will fit the players. In general, it's a safe, sound strategy, particularly for a first-year coach who has inherited a roster full of players he didn't recruit.
"We know what we're going to do," Pasqualoni said at the time. "We just will then take this playbook on both sides of the ball and utilize what our talents, feature what our talents, are. So you have a broad-based book but you don't on any season use everything that's in that book. You're going to take from that book what you feel your talent can do and then you're going to try to feature those concepts, so that's where we are…"

The Huskies are currently looking for a starting quarterback, a decision that won't be made until training camp. Whoever ends up with the job, the plan is to have an effective passing game, something that the Huskies have lacked in recent years. Last week, Pasqualoni said "We've got to be able to utilize the skills of the QB, once we establish who that is. Our philosophy is if we can run the ball well, that will help us throw the ball well. Often times if you're a good running team, it helps you with coverage on the outside. That's what we'll try to do."

Our response: It's a swell philosophy except that it doesn't work against good defenses. They know you can't throw, so they play to stop the run. Which puts you in 2nd and long or 3rd and long, situations that favor -- you guessed it -- the defense.

Which brings us to UConn offensive coordinator George DeLeone, who is tasked with creating a reliable passing game, something the Huskies haven't seen since Dan Orlovsky was the quarterback. Details via the Hartford Courant's Desmond Connor:
Last week, sophomore quarterback Mike Box called DeLeone a genius. DeLeone, 63, was the architect of amazing and innovative offenses at Syracuse in the late 1980s and '90s. He did it with an off-season system he has followed for years, and that's not changing.

"We have a calendar every day where we have certain jobs. Like on this day, I know what I'm working on. We have very specific jobs and we have three days in the office in July relative to our opponents, opponent film breakdown and getting ready for practice schedule.

"...We've spent the last few days getting seven days worth of preseason camp practice schedules and scripts done," DeLeone said. "We've got opponent film ready to go because during preseason camp we'll have a day on some of our opponents and we have to be ready for plays we want to use against [them].
Connor points out that the Huskies installed a "new, multi-faceted offense" but the transition wasn't a smooth one. The offense sputtered in the spring game. But once practice starts in just over a month, there will be little time to work out the kinks. If the Huskies are going to compete in the Big East, it's going to take more than a stifling defense. But we already knew that.