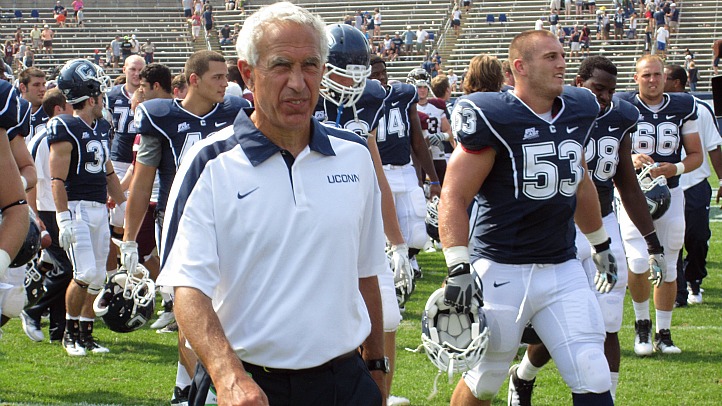 The Huskies football team is quietly preparing for spring practice, and beyond that, summer works and the 2012 season. Paul Pasqualoni's rookie campaign in Storrs wasn't so much a disappointment (it's not like we didn't expect the team to struggle without a proven quarterback) as a dose of reality. Which meant that if UConn was going to be competitive in the (let's be honest) middle-of-the-pack Big East, they were going to have to recruit better players.

That's exactly what happened. Pasqualoni landed 25 players for the 2012 class, 20 of whom are high school players. Some have already enrolled and will be available to participate in the spring. The others will make their way to campus this summer in the hopes of improving on last year's 5-7 effort. That brings us to the 2013 class. That's right, there is no offseason for recruiting.

"You're always trying to one-up yourself," receivers coach and recruiting coordinator Matt Cersosimo told the Hartford Courant's Desmond Conner. "You're always trying to get yourself a better class than what you had the previous season. I think we're really doing everything we can right now, within NCAA regulations, that we can to get to know guys and them getting to know us, having conversations with their high school coaches and trying to get a good relationship built so we can eventually get them on our campus. Have them visit us, meet everyone, see everything they need to see."

That philosophy -- get better players with each class -- is a noble one. And, in general, it's a self-perpetuating enterprise for programs that reach a certain level of success. the Alabamas, LSUs and USCs of the college football world have an easier time landing top-flight recruits than UConn. But there was a time that those programs were floundering, too.

When Pasqualoni arrived at UConn, many of his critics thought he was an uninspiring hire; and old-timer who had been away from the college game in the NFL where recruiting isn't imperative to success. But in less than a year, Pasqualoni has proven to be a more more adept recruiter than Randy Edsall ever was. And it's already paid off. Next up: February 25 is Junior Day, described by Conner as "an unofficial visit when a general pool of players the football program likes, and their parents, will be on campus."

More details via Cersosimo: "Junior Day is an opportunity to meet our coaches, get a chance to get around our campus, see our facilities, meet some of our players and really just get the idea of what we're all about from an academic standpoint, what the campus looks like, what the football program is about, the core values that Coach Pasqualoni has. We're really trying to send those messages to the prospects and the families. It's just the one day. It'll start in the morning and end that early evening."

And while the Huskies have plenty of work to do in an ever-changing Big East, the reality is this: string together a few good seasons, continue to stock the team with quality players, and UConn could be more than a basketball school. We're not talking Crimson Tide popularity, but there's something to be said for being one of the northeast's best programs. It's not the end-all be-all but it's a start.